Improving the community through a Day of Action, learning more about what it means to work in an office and gaining more confidence in herself, Mackenzie Waltemath is working alongside several organizations in the city of Hastings as part of her internship with the United Way of South Central Nebraska.
While United Way is a global organization, any money raised by United Way of South Central Nebraska (SCNE) stays local. Waltemath, an Omaha, Nebraska, native, said she was drawn to United Way because she knew she wanted to intern for an organization that gives back to the community.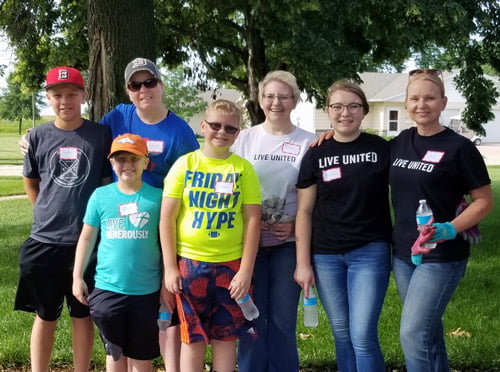 Every June 21, the longest day of the year, the team goes into the community to serve others for a Day of Action. Waltemath, a junior double majoring in business administration and communication studies, with an emphasis in organizational/strategic communication, helped grow the Hastings chapter's Day of Action event this year.
As part of the day, the United Way team and several volunteers went to the Sexual Assault Sexual Abuse Crisis Center (SASA) to organize Hope's Closet, a program for domestic abuse survivors to receive donations of clothes, hygiene products and household items, while another group of volunteers packed more than 1,000 sack lunches at the First Presbyterian Church. A third group of volunteers helped with storm cleanup at Good Samaritan Village.
"The Day of Action event was special because the community could see the direct impact we have on the community with all the tasks we accomplished," she said.
As an intern, she works closely with the community coordinator, writes news releases, strategizes how to bring a United Way group to campus for students and is in charge of their Instagram account.
This summer her boss has helped her become more confident in herself.
"In high school, I had a boss who didn't like when I asked questions, and now my boss encourages me to," she said, "It's making me more confident personally and professionally."
Waltemath is also involved with the student programming board at Hastings College, so she's helped plan events like the free movie nights at the Rivoli Theatre and helped with homecoming and Bronco Bash. Those experiences helped her tremendously with the internship. Within the first week on the job she began helping plan events for United Way and she used ideas from what she's done on campus.
She first learned about United Way SCNE at the Hastings College Career Services event, Career Palooza, where she signed up for a mock interview. She interviewed with  Jodi Graves, executive director of United Way SCNE.
Kim Graviette, director of Hastings College Vocation and Career Services office, told Waltemath that United Way SCNE was looking into hiring a summer intern, so Waltemath approached them after she knew it would be the right fit. She worked alongside the office of career services as well as United Way SCNE to get the internship approved by their board of directors.
"I have learned so much this summer at my internship, and I know it will help me in my future career," she said.
By Courtney Hanson, a junior from Brookings, South Dakota, majoring in communication studies and philosophy and religion.