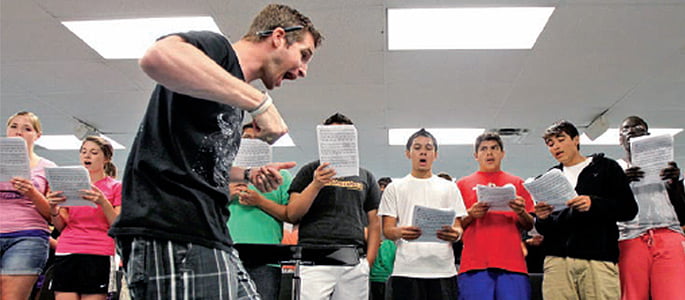 There's an old couch in the office of Jeff Vyhlidal '08, but he can't remember the last time he himself sat down on the well-worn cushions. "It's almost always filled with students," the teacher and choir director said of the cozy furniture. And that's exactly the way that Jeff wants it – more students, more people, more community crowded encouragingly into his office and into his life.
The Fremont, Neb., native majored in music at Hastings College, graduating in 2008 with an emphasis in K-12 music education. He took several jobs before landing at his current position as Choral Director at Grand Island Senior High School (GISH) in Grand Island, Neb. He and his wife Kari (Padgett) Vyhlidal '11 have found a community there for themselves and their two young kids.
Jeff's crowded couch is symbolic of the way his students have crowded into his life and into his heart since he was hired at GISH five years ago. Many of his students represent minority populations and come to Jeff's classroom and office not just for choir practice, but also for counsel and encouragement.
"These kids just need someone to love and appreciate them, and I am so blessed to do that each day," Jeff said. "I bet I have more conversations with these kids about college and their dreams than most parents or counselors do."
Jeff directs four concert choirs and three competitive show choirs at GISH and has maintained a strong relationship with the
Hastings College Music Department throughout his career. He often encourages his students to visit the HC campus and watch the music ensembles perform to try to envision themselves there. Conversely, he also gives HC staff a heads-up when talented students are nearing graduation.
"I got to experience it all at Hastings College – choir, jazz band, ensembles and clubs. It felt like home to me. I want my kids to experience that too," Jeff said.
Ultimately, Jeff said, he wants his students to discover what he has discovered in life so far.
"When it comes time, find the thing you love to do – what you can't live without doing every day," he said. "For me, it's help­ing these students. Thus, I want to help my students find that for their own lives."
By Laura Bernero '13