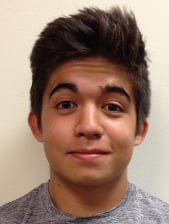 For Josh Hulbert, communicating through words is difficult.
"I feel more comfortable just showing them via cinema," said the sophomore advertising and public relations major from Aurora, Colorado.
And his messages are getting through.
Hulbert won Best in Show at the 2015 Hastings College All-Student Juried Show for his video short "Peanut Butter Balls of Jelly."
"My video is about the struggle of making the best peanut butter and jelly sandwich in order to receive a magic ball," he explained.
It's an original concept he developed during his Digital and Contemporary Media course. He filmed the video with his friends and fellow Hastings College students serving as actors.
Without encouragement from Assistant Professor of Art Steve Snell, Hulbert says he wouldn't have entered the contest.
"I didn't even think I would get into the show because of all the talent I saw in the gallery," he said. "I was definitely surprised to get Best of Show."
During the College's January Term (J-Term), Hulbert continued to hone his video skills. Through the Digital Video Editing course, he's completing a comedy short. Influenced by YouTube filmmaker Freddie Wong and director Wes Anderson, Hulbert also has projects he and classmates are developing outside of class.
"We are keeping it private for now, and maybe when we are done, we will enter it into a film festival or something cool like that," he said.