Travis Agagah, a 2018 Hastings College graduate and a current Hastings College MAT student and grad assistant, had the opportunity to get hands-on coaching experience through his summer internship with Creighton University athletic performance program.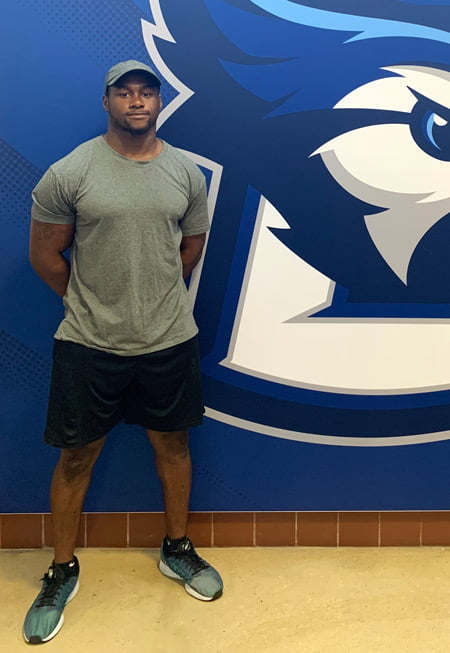 At Creighton, Agagah supported athletes in team workouts, facilitated and led exercises and was assigned to build a program for a hockey team.
The hockey team program is a 16-week training program for the team, Agagah designed the program before turning it in for critiques. He said he was nervous to turn it in at first because he was intimidated by his mentors' experience and expertise. However, he said that to be a better coach, he knew he needed to be open to critique and adjust the program as needed to maximize overall performance.
"In order for your team and athletes to find success, you have to learn how to manage your own time to put in the work for them," said Agagah, who majored in Business Administration and Recreation & Sport Management at Hastings.
While working on his masters in physical education and health, Agagah coaches Hastings College teams in the weight room and on the field. He's worked with the women's basketball team, men's soccer, men's and women's tennis teams, bowling, the wrestling team and assists with football.
Agagah learned a lot from Creighton's athletic performance program that he would like to incorporate in Hastings College programs. From exercises, different coaching styles and different technology they use, he plans to bring some of them to campus to maximize players performances.
Hastings College faculty helped shape Agagah into the coach he is today. He said Brett Wells, the Hastings College director of human performance, helped him prepare for his internship by equipping him with skills he needed.
Wells incorporated Gallup's CliftonStrengths into the human performance program last year as part of a new campus initiative that strives to teach students more about who they are by giving them their top five strengths. Agagah said Wells taught the human performance staff how to use their strengths to their utmost abilities and how to use their weaknesses to their advantage.
"I had a fear of public speaking, but Wells helped me overcome that fear so I can be the best me possible," he said.
By Courtney Hanson, a junior from Brookings, South Dakota, majoring in communication studies and philosophy and religion.