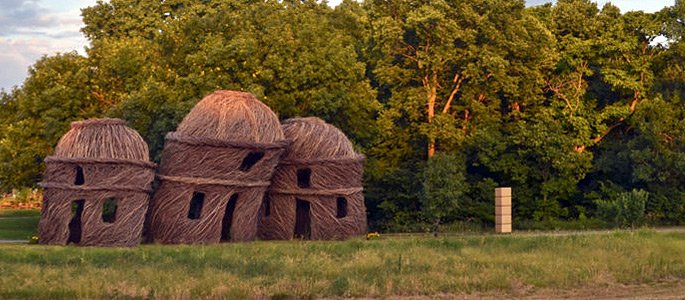 The newest Hastings College Art Gallery exhibit weaves a photographic tale of Three of a Kind, an usual and intriguing "stickwork" sculpture created by renowned artist Patrick Dougherty and commissioned by Karen and Robert Duncan of Lincoln. The exhibit, on display through Dec. 19, 2013, reveals the unique structure's creation through a series of stunning images captured by photographer Roger Bruhn.
Several Hastings College students were among nearly 100 individuals who collaborated to bring the three-year project to completion. Harvest of the raw material needed for such a structure took place over two days in May when the student volunteers used clippers, pruners, saws and axes to gather tiny willow, dogwood and cottonwood saplings from along the Platte River near Hastings.
Dougherty guided the students through careful selection of each sapling, which were then bundled and loaded onto a semi-truck trailer bound for the installation site at the Duncans' garden estate.
"It was such a great experience for these students," Hastings College Art Professor Turner McGehee said, "for them to have had a hand in creating a project for an internationally known artist is wonderful."
Teal Peterson, a 2013 Hastings College graduate and gifted nature-inspired artist, was hired as Dougherty's assistant on the project. She helped lead the field crew that harvested the saplings as well as the volunteer assembly crew in Lincoln, made up of Nebraska Wesleyan students, Girl Scouts and students from the local middle school.
"There was nothing about Patrick that was hard to understand," Peterson said of the experience. "He told us the materials themselves would tell us almost everything we needed to know and that the process would come naturally. He was right."
The assistantship with Dougherty was Peterson's first post-graduate job, and she is now attending graduate school at the Maryland Institute College of Art.