For the past two summers, Hastings College junior Landry Hinkson has been working with kids and teens at summer camps—and the experience has put her on a new career path.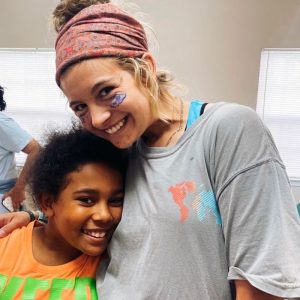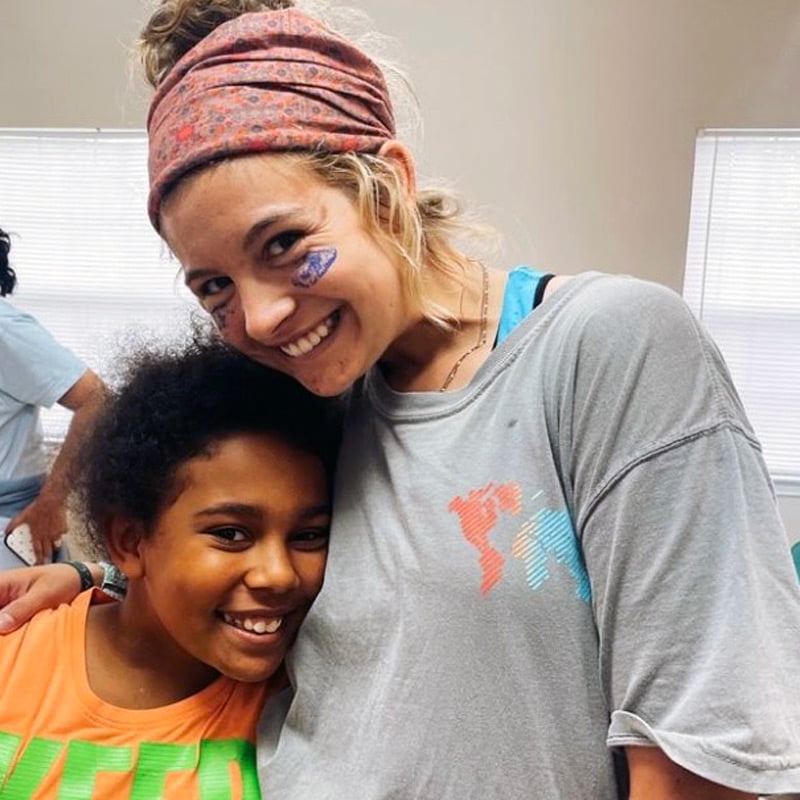 Hinkson, a communications major from Bazaar, Kansas, up until the summer of 2021 believed she'd work at a newspaper as a journalist. Now she's interested in going to grad school to become a school counselor, and it was her experience at a summer camp that year, and now this summer, that changed her mind.
"I figured out what I wanted to do after spending a summer at a summer camp. I just fell in love with it, and fell in love with the kids," Hinkson said.
Hinkson said she has always had a passion for working with kids, as she babysat from a young age, but it's an area she didn't really plan to consider since lots of her family has worked in education previously. She said everyone always told her she'd be a great teacher, but she never envisioned herself working in a school system.
In 2021, when she worked at Camp IdRaHaJe in Bailey, Colorado, she was with 6-9 year olds and spent all day everyday with them. "We slept in the cabins together. I was a mom, nurse, archery instructor, therapist and also a pastor because you're leading devotions with them," Hinkson said. "You just become a lot of things to the kids."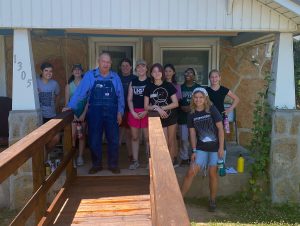 While Hinkson explained that this sort of experience could make someone realize they don't want to work with kids, the opposite happened for her.
During her time at the camp, Hinkson said she realized that her original career path just didn't make sense. Every job experience she'd ever had was with kids and even when there were guest speakers at the camp, she said, all believed she was going into education.
"I just started thinking about it and it didn't make sense," Hinkson said. "My eyes were really opened to what I wanted to do with my life through that experience."
This summer, Hinkson decided to work at another summer camp, GENERATE by YM360. YM360 is a christian publishing company and GENERATE is the camp they host for 7-12 graders. Churches often bring entire youth groups to these camps.
Hinkson is a SERVE leader this year, which means she facilitates missions and volunteer experiences throughout the week at different locations. These missions, for example, may include helping out at a vacation bible school, building an outdoor chapel, working in thrift stores, painting houses or mulching around trees. A favorite project was a christian retreat center in Cleveland Tennessee called Johnston Woods. One woman was managing 300 acres of land with minimal staff and needed support to prepare for her summer family camp season.
"I've really enjoyed that our mission projects were different every week. I've gotten to experience how sometimes doing missions is focused around being relational and sharing the gospel with people, but sometimes it's doing manual labor like raking leaves in the woods for three hours. Both are important," Hinkson said.
GENERATE has camps across the country during the summer, so Hinkson was able to travel to a lot of different places. They did training and the first week of camps at Covenant College in Lookout Mountain, Georgia. Then they went to Lee University in Cleveland, Tennessee, and were there three weeks before heading to Louisiana Tech University, which is in Ruston, Louisiana. She also went to John Brown University in Siloam Springs, Arkansas; Marshall, Texas; and then finished up with a two-week stint in Estes Park, Colorado.
Working at GENERATE this summer further confirmed her decision to be a school counselor, but in a different way. While she was not spending as much time with these kids as she was last year at Camp IdRaHaJe, she said she was still able to form connections with them. Since the kids at Generate were older, she could have deeper conversations.
"Since I can have those conversations with them, I can share my experiences at camp and my testimony with them. I see them relate to me and look up to me," Hinkson said.
That she's able to share her story with the kids and see them look up to her and want to take after her, is a full circle experience for Hinkson, since the reason she's working at camps is because of her camp counselor from when she was in high school. "I just thought that what she was doing was great and it was the first time I had ever seen a college kid that just devoted their life to the Lord and camp ministry," Hinkson said.
Hinkson said she worked and traveled with a team of 25 people full time, and the group taught her a lot about self sacrifice.
"I just believe there is great value in knowing how to put others' needs above yourself in an organization and also in personal relationships. You can use that in any aspect of your life," Hinkson said.
By Ally Banks, a junior English major from Shawnee, Kansas