Disney World has always been known as a place where dreams come true and magic becomes real. What many don't know is Disney World offers internships for students from all over the world. Through its College Program, Disney allows them to tailor an experience to help them in their academic and professional careers.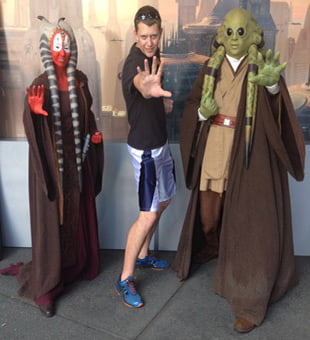 Physics major Ian Tuttle, a senior at Hastings College, has always desired to be a Disney College Program participant but never found an opportunity that did not involve missing school. However, being involved in Revive, a non-denominational Christian club on the Hastings College campus, introduced him to Campus Crusade for Christ (Cru).
An interdenominational Christian ministry, Cru helped Tuttle find a program with Disney over the summer. By interning, he hopes to learn how to mix his love for physics, Christianity and Disney.
"When looking into partnered programs with Disney over the summer, I found a very interesting one with Cru where they take about 50-60 students from around the country, teach them evangelism, plug them into a job at Walt Disney World that provides them with the aspect of Disney they may like to pursue, in my case Imagineering," he said. "Although the program is 10 weeks, it is extensive and has late nights and early mornings. I'm definitely learning a lot from every aspect of Disney and Cru, and I couldn't be happier."
Tuttle meets with Cru on Wednesdays, and they have already worked towards sharing the gospel with fellow coworkers, park guests and complete strangers. They traveled to a mall for evangelism, learned how to surf at the beach and held Bible studies where they learn and grow in the faith.
Since Tuttle has an interest in engineering as well as Christian ministry, Disney has planned days for him to follow an Imagineer and learn about new plans or projects around the park complex. The new attractions he has learned about include a "Frozen" ride at Epcot, a Jungle Cruise restaurant at the Magic Kingdom and the creation of Pandora from "Avatar" in the Animal Kingdom.
"There are many more exciting aspects that I cannot share," Tuttle said, "but that is part of the magic behind where I am. This will be most of the main focus behind the job shadowing of the Imagineers."
The Imagineers are the masterminds behind everything seen and experienced at Disney attractions. They are the show writers, engineers, designers, architects, special effects specialists and more. Their most important job, however, is ensuring safety for guests.
"Disney is known for its creativity and efficiency when doing projects and designing new rides and shows. This cutting edge technology has caused me to develop an interest for the innovation and physical aspects behind each process," said Tuttle. "I'm hoping to learn how Disney creates and develops while including safety in physical concepts."
One thing Tuttle said he always looks forward to during these experiences is the chance to make new friends.
He said, "No matter where I go in life and no matter what I accomplish, the thing I enjoy the most is the fellowship with like-minded individuals."
He has been able to meet and connect with people who share the same passions, including Christian evangelists and engineers. "The activities are great and I learn a lot," he said, "but the new people you meet are something you will never forget." 
By Amanda Miller, a senior from Woodland Park, Colorado majoring in journalism