Four friends who met at Hastings College are living their dream of owning a business together — and helping their community while doing it.
"We've always had the desire to start a business with our friends. A little bit over a year and a half ago we decided to make that a reality," said Mark Wong '11. 
Michael Friedman, Taylor Darlington '12, Matt Moore '10 and Wong met during their time at Hastings College and have been friends since.
"We love the school and we will always say that we met the best people of our lives there," Wong said.
They were lucky enough that despite graduating different years they had jobs relatively close to each other and stayed connected through group chats and meeting up whenever they could.
After the worst of the pandemic, the guys realized there was a need in their community—the Omaha, Nebraska, metro area.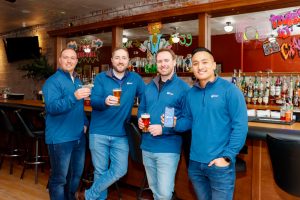 "We weren't allowed to go to bars or restaurants for a while and those businesses really suffered quite a bit," Darlington said. "From that we all said, 'How can we help?'"
The group wanted to be able to support local bars and restaurants, but they were having trouble figuring out which ones were still open. Then they realized that others in the community had to be struggling looking for the same information, and businesses were struggling getting the word out. That's when they came up with the idea for Tippl.
Tippl is a mobile app that offers members one free drink at a participating bar or restaurant per day, and one visit every 14 days per location. All Tippl members have to do is show their phone screen to redeem their free drink. The app is available in both the Apple App and Google Play stores and is free to download, although users must be 21 years old.
Members have access to a free drink at a specific location once every two weeks because Tippl is meant to help its members discover more restaurants and bars in their community. "It's about finding a new place or finding old places to support," Wong said.
With one free drink, members have incentive to go to a new place — or their favorite place — to meet up with friends, and then order some food and maybe get a second round of drinks, which in turn supports that business.
To become a member and gain access to free drinks, there's no fee for the first month as a trial, then it's $4.99 each month after — so basically a free drink every day of the month for the price of one. Since they are dedicated to strengthening local businesses, there's no cost for businesses to partner with Tippl. Details for both members and bars and restaurants can be found at tippldrinking.com.
While the app is currently centered around business in Omaha, Nebraska, Darlington said they hope to first expand to Lincoln and then more cities in Nebraska. They're excited to talk with business owners in other cities, but sometimes it's a challenge to get them to buy into the Tippl concept.
"It's been a struggle, a lot of people think it's too good to be true or they're not willing to commit," Darlington said. "We have to walk them through why it's no risk to them."
Despite this, the group continues to work on growing locations by meeting business owners and sharing the benefits of partnering with Tippl because they care about local businesses and the communities they are in. Getting people involved with their community and helping small businesses are extremely important to them, and with Tippl they can do both.
By Ally Banks, a junior English major from Shawnee, Kansas