During his sophomore year at Hastings College, Marc Sisson '19 interned for the Nebraska Attorney General's office in constituent services. Now in law school, he returned to the same office this past summer to work as a law clerk in an entirely different departmentーthe criminal appellate section.
This fall, Sisson started the second of three years of law school at the University of Nebraska-Lincoln — and was awarded a full-tuition scholarship based on academic performance and involvement in the program.
"Receiving a scholarship I didn't even apply for was a real validation of the work I've done and is beneficial to have going into my second year," said Sisson, who graduated from Hastings College with a political science degree in 2019.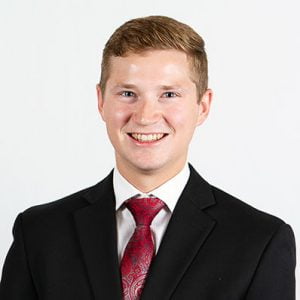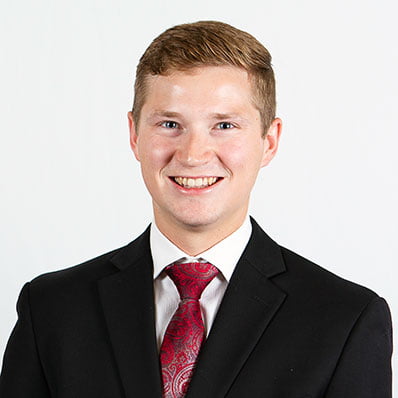 The opportunity to land the clerkship position this summer began during his first year in law school, Sisson attended an on-campus interview (OCI) event. OCIs happen at the beginning of the second semester each year, and Sisson submitted an application and got to the interview round, where he initially got reconnected with the Attorney General's office and was hired.
While many interns had to work remotely this summer, the Omaha, Nebraska, native worked in the office because he needed access to the physical documents in case files. His clerkship duties were to assist attorneys with conducting legal research and writing as it pertained to their motions or briefs that came through the criminal appellate section.
Although Sisson was in the office, many of his coworkers were home. He was primarily alone in the office, and his physical interaction with people was minimal.
"Even though I lacked some of the face-to-face interaction with coworkers, I was able to learn and help out with the same things as I would have if we weren't in a pandemic," he said. "The office did a great job of giving me opportunities that allowed me to work on cases going straight to the Nebraska Court of Appeals and the Nebraska Supreme Court."
Through his clerkship, Sisson had the opportunity to apply the work he learned during his first year of law school. He utilized legal research and writing skills taught in the first year, and his position has helped him have more confidence going into his second year of law school.
Sisson is very involved in his law school program. He is a part of the Student Bar Association, the Federalist Society, a candidate member on the Nebraska Law Review, and much more. He said he got used to being so involved during his time at Hastings College.
At Hastings College, Sisson said he utilized every opportunity to join groups, organizations and even presumed leadership roles.
"Hastings College created a community that is so infectious that you want to be overly involved, so it was no question that I would join several organizations in law school," he said.
Sisson said the political science faculty and pre-law advisors at Hastings College were intentional in creating a beneficial learning environment.
Sisson said Dr. Bob Amyot, Hastings College professor of political science, helped him tackle extensive readings, summarize and put his thoughts into articulate writing that achieves results.
"The three political science majors in my class all went to law school. It's a testament to the professors who took the initiative to tailor our learning experience to dive into things that would be beneficial for our future," he said.
By Courtney Hanson, a senior from Brookings, South Dakota, majoring in communication studies and philosophy and religion