Thompson retiring as Professor of Psychology.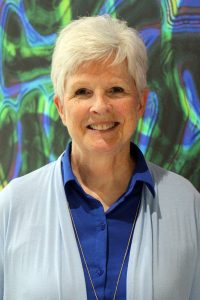 Among the first things all Hastings College psychology majors of the last decade and a half learned was that taking a course with Dr. Jeri Thompson was certain to challenge them.
Every "A" in a Thompson class was earned, usually by perfect APA Style citations, succinct summaries of scientific research articles and frequent participation in class discussions. She'd push you to think about psychology as more than just intuition, common sense or a degree for therapists.
But Thompson's persona as solely a strict, data-driven professor faded away whenever the spunky, short-haired cognitive psychologist was caught bopping along to her favorite songs in the Morrison-Reeves Science Center.
"I remember in one of our classes someone put on a Bruno Mars video, and she started dancing to it," said Mollie Strain '16. "I think she was looked at as a tough professor because she had high expectations for us. Once you got to know her, though, she was so much fun."
Thompson's rigorous standards but "soft soul" left a lasting impact on students and colleagues, said Dr. Stephanie Furrer, chair of the Hastings College Psychology and Sociology Department. The department hopes to carry those values on as Thompson retires after 15 years of teaching students.
"What drives her is her passion for education and learning and science," Furrer said. "I think Jeri more than anyone I know, believes so strongly in the value of education and accurate information, which is really important in these times."
More than just therapy
Education — and specifically her studies of cognitive psychology — positively shifted Thompson's life at a moment when she was "struggling to find a path," she said. She started college as a 31-year-old, single mother of two.
"I didn't have a major at the time, and one of my advisors told me to take intro to psychology because it's a good general course for liberal arts," Thompson said. "My eyes were completely opened. I had no idea psychology was more than just therapy. When I figured out all these facets to it, I was very interested."
So interested, in fact, that she stuck with the program to earn her Ph.D. Then she started a teaching career that brought her to Hastings College in 2005 to share her excitement for the field with others.
"To me, Jeri is an inspiration. Her story is one of the stories I want students to hear more than anyone's because it shows them that it's OK if they don't know what to do with their lives right away," Furrer said. "Jeri didn't start undergrad until she was in her 30s, and she already had children. Then she became an expert at cognitive psychology."
As a teacher, Thompson aimed to show young psychologists that their degrees were versatile.
"You can be an animal trainer. You can work with local law enforcement. You can help with community disaster assistance," Thompson said. "There's just so many things I don't think most people are aware of."
She realized the "liberal arts nature" of psychology as an undergraduate, when she combined an English degree to study psycholinguistics. She carried the interest to Hastings College, where every so often she taught "Psychology of Language," a J-Term course of her own design.
"I just really loved language. I still do. I pay close attention to words and what they mean and how people use them," Thompson said. "I just realized that was all about human beings as well. The combination made sense to me."
That course prepared Strain for her career as a children's speech pathologist at Two Trees Physical Therapy and Wellness in Ventura, California, she said.
'Thank goodness I had Dr. T'
Thompson encouraged students to dig into psychology in the "real world," Strain said. When the photo of the black and blue/gold and white dress circulated on the internet, she helped students understand the mechanics behind it.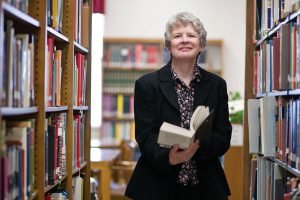 "Instead of regular class that day, she led a discussion on the dress," Strain said. " I remember her being so on board because we were excited about how psychology applied."
Thompson required her students to think critically about each side of an issue in psychology, even while teaching a lesson off the cuff. Though classes were difficult in the moment, the rigor paid off.
"I remember going to graduate school and thinking, 'Thank goodness I had Dr. T as a professor because she prepared me so well,'" Strain said. "The quality of her classes made me feel ahead of other graduate students in my class."
Outside of classes, Thompson kept an open door to offer "sage advice" for students and colleagues, Furrer said.
"We joke with her a lot about how rigid she can be in the classroom, but she's really just a softie," Furrer said. "She's incredibly caring, but I think that's why she comes across as so tough: She takes psychology and teaching seriously."
Strain said she "looks back fondly" on Thompson as a supportive mentor and friend.
"I just feel like her determination and willingness to go above and beyond for the department and her students made a really lasting impact," she said. "I can't imagine being a psych major and not having Dr. Thompson in my life. She was such an important part of the department."
Thompson said she plans to spend her retirement with "lots of books and crafty things," as well as frequent visits to her children and grandchildren in eastern Nebraska.
She also hopes to play more disc golf — another somewhat unexpected hobby for the Bruno Mars fan.
"Retirement just sounds weird to me. I'm not retiring from life. I'm just retiring from HC," Thompson said. "I'm still going to be a psychology person, and I will always be a learner, for sure."
By Mallory Gruben '18