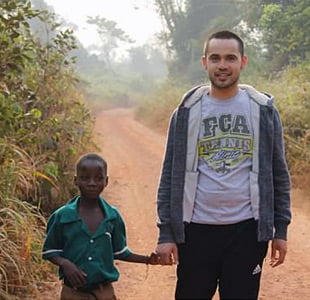 From the fall/winter 2013 edition of HC Today.
Grant Nagaki '13 co-founded The Senase Project after a college trip to Ghana and what he and others witnessed in the rural farming villages of Senase and Akatim.
The young group was stricken by the faces of 120 children who were heartbreakingly devoid of hope. The Akatim School was no more than a metal-roof shed with mud floors, lacking in shelter and even the most basic supplies, and the area was in great need of a medical center.
After collaborating with village elders and other college groups who visited the area, The Senase Project became reality with a mission to eradicate poverty through community development and to fulfill a vision of hope and opportunity for these citizens of the global community.
This year, with $58,000 (USD) in donations, The Senase Project erected a six classroom brick and mortar school in Akatim. Their next project? A Senase medical clinic.