With TeamMates' founder Dr. Tom Osborne '59 being a graduate of Hastings College and native of Hastings, Nebraska, it makes sense that Hastings College would be among the first and most active colleges in offering scholarships to TeamMates mentees.
In fact, the College offers a  noncompetitive Hastings College Teammates Scholarship, valued at $15,000 per year, available to anyone who was in the program for at least two years, plus it offers the Osborne Legacy Scholarship, which is a full tuition scholarship to Hastings.
The Osborne Legacy Scholarship, first awarded in 2014, is an annual competitive scholarship, with one recipient per year.
Founded in 1991 by Osborne, a former University of Nebraska football coach and member of Congress, the program encourages youth to graduate from high school and attend college by pairing them with adult mentors. These mentors work with mentees in many ways, ranging from homework help to simply being a positive influence that students can talk to.
More than college prep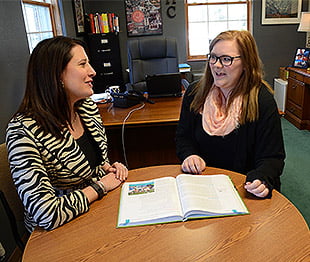 Rebekka Ralston, an English and secondary education major from Sutherland, Nebraska, was the inaugural Osborne Legacy Scholar in 2014. She said the TeamMates program helped push her in the direction of higher education, and eventually to Hastings College.
"The program definitely aided in my preparation for college, my mentor helped me research scholarships and fill out all of the applications," said Ralston. "But TeamMates is so much more than just about getting ready for college, it's also just a great way for students to be able to talk to a trusted adult other than their parents. It provides that extra support I think everybody needs."
First year student and special education major Holly Haswell, the 2015 recipient of the Osborne Legacy Scholarship, also values the unique relationship between a student and their mentor.
"A lot of students may not have the best background or home life, but TeamMates offers them an opportunity to be influenced by a trusted adult mentor who is outside of what may be an unsupportive circle of family and friends," said Haswell, who is from Ashland, Nebraska. "I'm fortunate enough to not have been stuck in a toxic home environment, but as a mentee and a future educator, I see how crucial that can be, especially for at-risk students."
Continuing to the next stage
The organization also has a post-secondary program to ensure success beyond getting into college. According to TeamMates' post-secondary specialist DeMoine Adams, the post-secondary program helps students acclimate to college and living away from home.
"We want to ensure that after these kids go to college they stay in and graduate with their degrees," said Adams. "So we highly encourage that students be matched with a mentor on campus and continue on in the TeamMates program in college."
Both Haswell and Ralston are participating in the post-secondary program, and are both glad that they made that choice.
"The post-secondary program is based primarily around being a support structure for students," said Haswell. "I can go to my mentor with class issues of course, but as a first-year student who doesn't know many others yet, it's also great to have someone at Hastings I can always talk to and trust."
Hastings College paves the way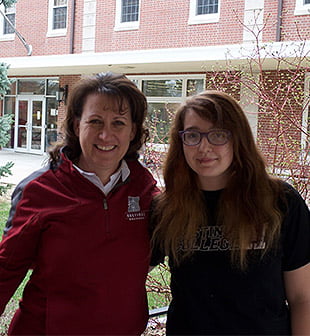 According to Adams, Hastings College was one of the first institutions of higher learning to partner with TeamMates by offering scholarships and sponsoring a chapter of the post-secondary program.
"We really value our relationship with Hastings College, and especially the individuals who serve as mentors," Adams said. "It's a great partnership that has encouraged other colleges to get involved as well. We really appreciate Hastings being one of the first schools to step up."
Though the TeamMates organization controls many of the decisions made in regards to the selection process for Osborne Legacy and Hastings College Teammates Scholarships, the college provides the financial support for the opportunities.
According to Director of Financial Aid Traci Boeve, it is a beneficial relationship for the college.
"Our partnership has been very rewarding," said Boeve. "As an administrator, but also as a mentor, I've enjoyed working with TeamMates."
A great opportunity
Ralston and Haswell recommend other students become involved with the program.
"Everybody in middle or high school should join the TeamMates program," said Ralston. "It was life changing and you get to do so many cool things."
Haswell agrees completely.
"I would recommend this to any individual who may be struggling in school or life in general," Haswell said. "TeamMates provides that different perspective, and of course it's a lot of fun as well."  
By Nick Musgrave, a junior from Parkersburg, West Virginia, majoring in history and political science