In the fast-paced world of national politics, Hastings College student Sierra Walker found her experience on the Hastings College Forensics team invaluable.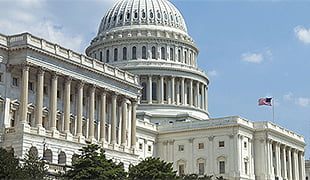 "Doing speech and debate familiarized me with every major area of policy, helped me recognize people and names and prepared me to speak professionally on the fly on the phone or in person," she said. "It also taught me how to dress and act professionally."
As a summer intern with U.S. Sen. Mike Johanns' Washington, D.C., office, she worked within four areas a senator's office.
"When I was on administration and tours, I drafted congratulatory and thank you letters, coordinated tour schedules and gave tours of the U.S. Capitol to constituents," she explained. "When I worked in the front office, I answered phones and recorded constituents' opinions."
She also had the opportunity to assist Johanns' legislative staff, researching policy topics and compiling information about amendments to an immigration bill under consideration by the Senate. Her stint in the office's mail room included sorting and recording all the physical mail and e-mails the senator received.
Sierra's internship clarified the path she wants to pursue after graduating from Hastings College. The Political Science major from Gering, Neb., now sees law school and a political career in her future.
"I love this stuff. I never imagined myself as the kind of person who would want to move to Washington, D.C., and work on the Hill, but now I can really see myself doing this," she said. "I'm even beginning to contemplate running for office someday — something I wasn't really interested in before this internship. It sound cheesy, but seeing how flawed the system is right now and how divided we are by partisan politics makes me really want to change it for the better."