Hastings College senior Alex Rieflin is spending his summer learning how to run a theatre. Rieflin, a theatre and communications major from Doniphan, Nebraska, is working with Pride Films and Plays (PFP) in Chicago, Illinois, where he finds himself stepping into a new role with every production.
"I do everything," Rieflin said. "I came in and they asked what I wanted to do, and I said, 'I want to learn how to run a theatre.' So far, I've been assistant stage manager, I've run lights and sound and I designed props."
Rieflin's expectations of what this summer with PFP would look like have changed drastically during his time in Chicago. "When I first got to Chicago, I expected to do grunt work that maybe didn't matter as much to the final production," Rieflin said. "But they put me in the thick of things, and I've learned a lot because of it."
Rieflin says his ability to thrive in the hands-on environment at PFP is something he learned participating in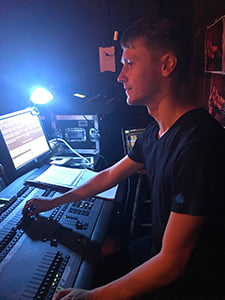 theatre at  Hastings College. "My experiences at Hastings College have been instrumental," he said. "The Theatre Department really taught me what to expect."
While Hastings gave Rieflin the tools he's needed to be successful at PFP, the skills he's gained at PFP will be invaluable as he returns to Hastings College in the fall. "PFP does two shows per space, so four shows at a time," Riefin said. "The ability to step into a new role as frequently as I have is something I've had to learn quickly and it's given me a lot of confidence."
Rieflin says he plans on doing theatre for the rest of his life, and that his summer in Chicago with PFP has given him the tools he needs to make that dream a reality. "I've also made so many connections with wonderful people while I've been here," Rieflin said.
When Rieflin learned about the Chicago Center during his junior year, PFP seemed like a perfect fit. "I talked to Lane [Chesebro, Executive Director of the Chicago Center] and he told me about PFP. Being from a small town, I didn't have much experience with the LGBTQ+ community, and I wanted to get to know this community that I was a part of," Rieflin said. For Rieflin, working with PFP has given him the perfect opportunity to combine these two parts of his life.
"I grew up in a small town and love living there, but I never wanted to blind myself to the rest of the world," Rieflin said. "So the thing that has impacted me the most is the diversity of the people I work with. Everyone is from different backgrounds, and it has really shown me how big the world is. I wanted a diverse experience and to open myself to the world, and I've gotten that this summer."
By Anna Weber '18