Paxton Fiala, a junior majoring in exercise science, helped staff at Mary Lanning Healthcare Rehabilitation put together an exercise database to keep track of each patient's fitness regimen and progress. When finished, the database will provide a centralized space for both patients and staff members to access exercise plans.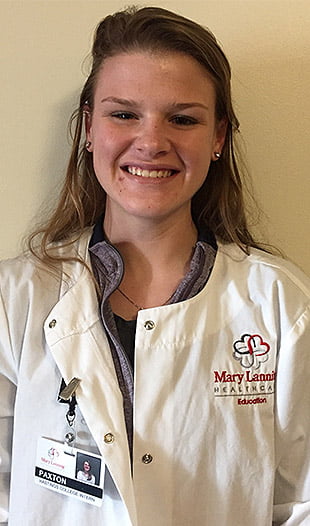 The goal is to improve care and open up opportunities for patients to continue their rehabilitation regimen at home. Many patients are required to incorporate specific exercises into their daily routine; this database will allow Mary Lanning's exercise specialists to post these plans in a virtual space where patients can access them from home.
The Ainsworth, Nebraska native took advantage of this opportunity during January Term, or J-Term, which is a great time for Hastings College students to gain firsthand experience in their fields through internships or independent research.
Pursuing a unique interest
In addition to working on the database, Fiala spent much of her time shadowing her supervisor, who works with primarily senior citizens. This was a perfect match for Fiala, who has developed an interest in later-life exercise and wellness.
"Last summer I worked at an assisted living facility in Ainsworth, where I led the residents in a daily exercise program," said Fiala. "The folks I worked with were so much fun and full of life. Their desire to remain healthy was just as strong as yours or mine."
Fiala also attributes some of her interest in late adult wellness to her classes at Hastings College.
"I took a class called Exercise for the Aging Adult, and that really opened my eyes to how much people need quality exercise for their entire life, especially as they become older," Fiala said.
According to Fiala, many of the patients who came in to Mary Lanning Rehab to exercise had already completed physical therapy, and still had access to the training facilities and staff to maintain their wellness. In addition to the equipment and staff, the encouraging and supportive atmosphere helped many former patients stay healthy and strong.
Excelling on and off the field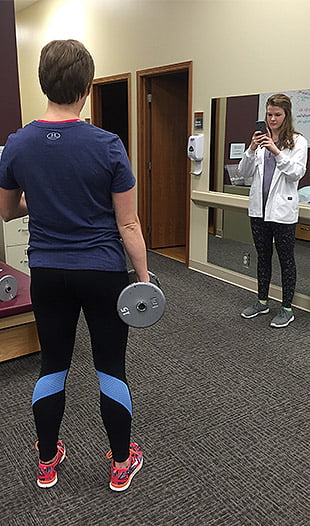 In addition to her work with Mary Lanning, Fiala strives toward success on campus as well. She competes as a varsity member of the Bronco Track and Field Team, qualifying in the 4×400 Relay and Distance Medley Relay at the NAIA Indoor Track and Field National Championships in 2015.
Her drive to excel does not end at the finish line; Fiala is also a member of Alpha Chi Honorary at Hastings College, which recognizes the top 10% of the junior and senior classes.
Though Fiala chose Hastings partially to continue her track and field career, the friendly atmosphere and small class sizes are what sealed the deal.
"I really love how I can walk around campus and never meet a stranger," said Fiala. "The environment is very homey and welcoming."
Fiala hopes to keep the momentum following her internship, and is exploring ways to continue engaging in her interest through graduate school.
"I'm looking into continuing my education after graduation with an advanced degree in exercise science or physiology, focusing on late adult wellness" Fiala said. "Eventually I'd like to work in a clinical setting, much like what I experienced through my internship."
At Hastings College Fiala developed a genuine interest in helping others remain healthy, and through internship and classroom opportunities, she is pursuing that passion.
By Nick Musgrave, a junior from Parkersburg, West Virginia, majoring in history and political science