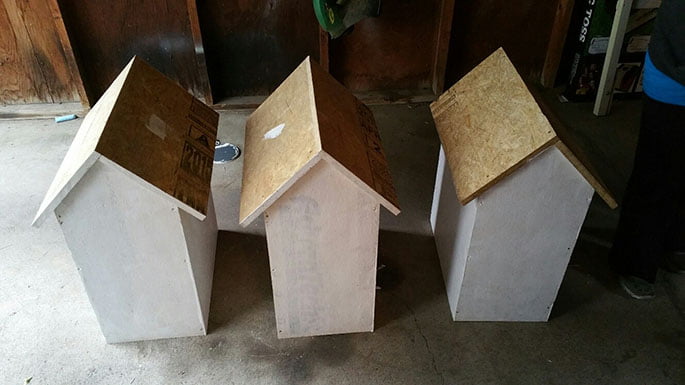 Four Hastings College teacher education majors made positive change within the community by building three Little Free Libraries (LFL) around Hastings. These libraries contain free books for anyone who stops to pick one out. The idea is kids will take a book and leave a book in its place, creating a circulation of new free books.
"By installing libraries in areas of need, we are able to reach all members of a family," said senior Angie Call, one of the students who contributed to this project. "That is one of the reasons we want to continue installing LFLs in communities that may not have access to a library or a bookstore. The LFLs will open up opportunities to encourage the love of reading for everyone in that community."
As part of their senior project in Communication, Consultation & Collaborative Partnerships class, Samantha Uden, Jenn Elliott, Sara Hermann and Call built and placed three Little Free Libraries in Hastings. Taught by Judy Hall, Professor of Teacher Education, the class split into different groups to complete projects centered on different interests.
Focus on literacy
Elliott's group focused on literacy. They saw books as a need in the community, so in order to fulfill that need, the group chose Little Free Libraries as an ideal way to impact kids and encourage them to read.
"We knew a lot of kids have a love of reading and that's what we wanted to establish and we wanted to keep that love of reading going outside of school and we also knew that a lot of students, as well as families, don't really have access to books," said Elliott.
Planning and getting everything organized on paper was important first, Elliott said.
"We take what we learn with communicating within our individual groups and then we take that learning of working in individual groups and apply it to working within the community to get the best results possible with the minimal amount of run-around," said Elliott.
Location, location, location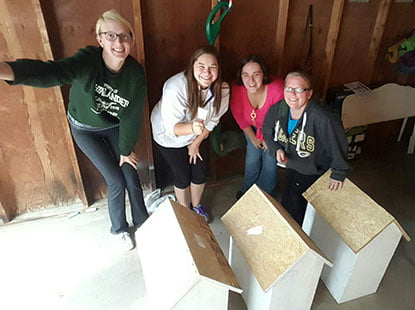 The group worked with businesses in the Hastings community to get donations for supplies needed to create LFLs. They partnered with places like Menards, Sherwin-Williams and Diecker Construction. Once they had their supplies, locations were scouted for the libraries. Homeowners were contacted to make sure the location was acceptable and state officials had to confirm the placement.
The patch of grass that exists between the curb and the sidewalk is property of the Hastings community. "There's a certain rule where we had to set the libraries far enough away from, and they couldn't be facing the sidewalk, because that would interrupt traffic of the sidewalk," said Elliott. "We had to either turn them sideways or put them far enough back from the sidewalk that people would step off and then use the library."
Location within the community was a major factor when considering where to build the new libraries. The three areas chosen were the most ideal based on their surroundings and the appeal to the wide range of the community, plus there were no LFLs nearby. One of the libraries is located next to an elementary school, another is at Call's house, where there is a park and elementary school nearby. The last library is located in a bigger neighborhood, near the public middle school.
"I feel that one of our biggest challenges was finding time to meet as a group," said Call. "Two of us are moms and have busy schedules, while the other two had very busy school or work schedules. Another huge challenge was the weather. Because the libraries were being placed in the ground, we felt rushed to get them completed before the ground froze. We ended up getting them installed right before the first snowfall."
By Amanda Miller, a senior from Woodland Park, Colorado majoring in journalism