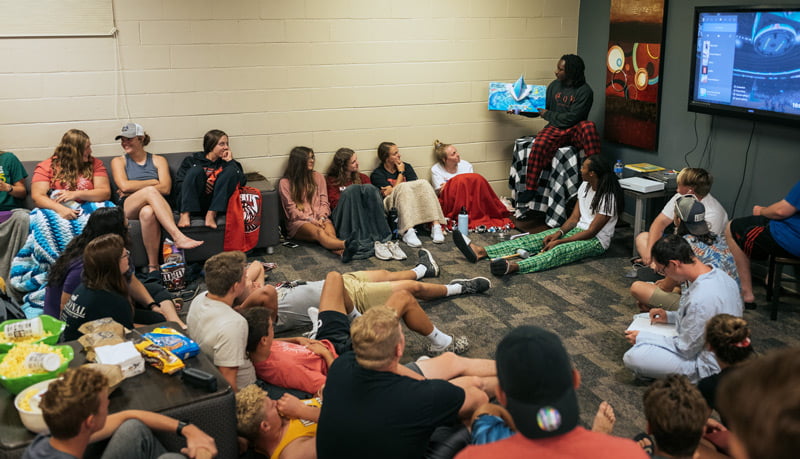 Hastings College's night activity line-up has a new addition this year: Storytime with DaeRon and Activity Time with DaeRon, alternating each week. The events, lead by Hastings College sophomore DaeRon Jones, are held in the lower level of the Daugherty Center for Student Engagement on Sunday and Monday evenings.
Storytime with DaeRon consists of Jones reading children's books to anyone who comes. Activity Time with DaeRon features group activities such as board games or Kahoot quizzes so students can socialize with new people and end the week with some stress-free fun.
Storytime began from a spur-of-the-moment decision — Jones said he never expected doing anything like this in college.
"A couple residents asked me one night if I'd read them a bedtime story in a joking way and I said 'Yeah. If you ask me at a reasonable enough time, sure, I got you,' and sure enough the next night they had a book ready and everything. So I read to them and other people who happened to be in the lobby," said Jones, who is from Kansas City, Missouri.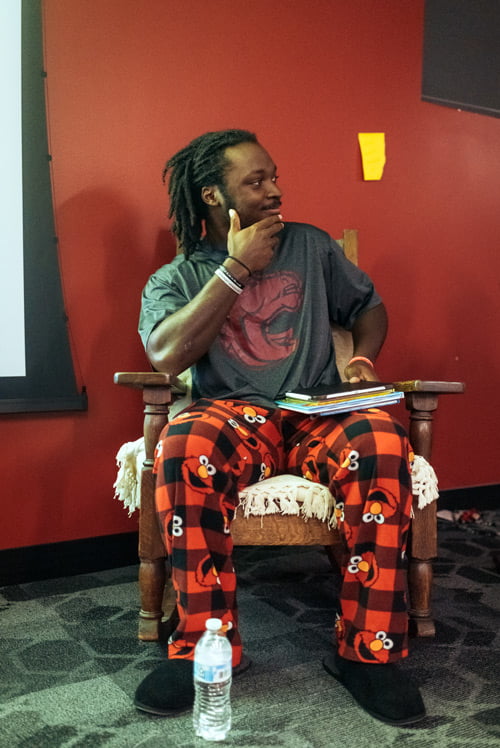 Jones' first official reading in the Altman Hall basement was a success right away, with more than 60 students joining the original group. Because of the overwhelming response, the group felt Jones' storytime had potential for the whole campus. Jones was open to the concept as long as they could show him a plan so he would know they were serious about it.
"They had a rough plan, I tweaked some stuff, and boom," Jones said.
The Daugherty Center is Storytime's home for the foreseeable future, as the extra space is necessary. The Daugherty Center lower level accommodates for this type of event because of its balance of open space and couches to lounge on. Dean of Student Engagement Dr. Lisa Smith and first-year student Ryan Hunter helped Jones work out the logistics of planning and hosting his events regularly.
"We have been working with her (Dr. Smith) a lot, especially in the beginning, and one thing she told me was she wanted Daugherty Center to be a good place for students to hang out. We wanted to just keep people interested in and aware of what we were doing, so we thought having nights where we just get together and have some fun was a good way to do that," Jones said.
Jones plans on continuing Storytime for the remainder of the fall semester.
"I want to do this for as long as people are interested and show up. I enjoy it, but I really only do it for the students on campus," Jones said.
By Effy Widdifield, an education major from Grand Island, Nebraska. This story originally appeared in the Collegian.