Sophomore biology major Alex Stogdill traveled to Nevada for January Term, or J-Term, to shadow a professional dermatologist. After nearly a month of observing the trade, Stogdill would leave the silver state and return to the Nebraska good life with a new outlook on how to prepare for his future.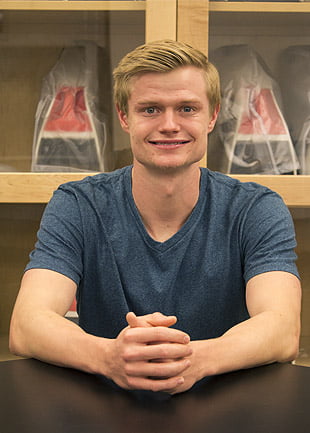 The Lincoln, Nebraska, native didn't foresee a future in dermatology before his internship. His original focus in the field of medicine was orthopedics, and he later grew interested in genetic counseling. While on the hunt for internships, his mother suggested he intern with his cousin, a partner at Carson Dermatology in Nevada. The decision to pursue the position sparked a desire in Stogdill to explore more options before making any final decision on what to pursue.
"The whole experience over J-Term made me think dermatology might also be a possible field for me," Stogdill said. "My main focus right now is getting into medical school, but I want to dabble in many areas until I pick a final focus area."
Lessons in life
In addition to learning about the specialized field for skin and how it relates to his future in medicine, Stogdill connected with his cousin by learning about life outside of the professional world. He accompanied his cousin to family dinners and on several family outings, all the while "picking his brain" about how to maintain a happy and successful lifestyle.
"There is so much emphasis on getting a degree and a job, but there is so much more that goes into making life meaningful," Stogdill said. "You have to really understand yourself and what you want out of life. Not just in a career and lifestyle, but the things that are important to who you are."
Overall, Stogdill uncovered the benefit of planning a future career that complements other aspects of adulthood. He connected the life lessons he learned in Nevada to ones he was exposed in the classroom at Hastings College.
"Occasionally in organic chemistry, Dr. [Neil] Heckman will spend a few minutes in class giving us life advice," Stogdill said. "When it comes down to it, it's not just science. At Hastings College, you get a wide range of perspectives and information that you can use later in life."
The importance of interdisciplinary study
Thanks to his coursework in the liberal arts, Stogdill said he feels prepared to take on the complexities of life. He said his interdisciplinary study helps him think more critically and creatively about scientific problem solving. He even connected these skills to the real world during his internship.
"The Liberal Arts Program showed me how important it is to work cooperatively with your peers," Stogdill said. "It was nice to see how the four main partners at Cason Dermatology would bounce ideas off each other to help with a patient's treatment plan; in medicine you have to be able to work well with people and understand different perspectives."
Stogdill will continue his education at Hastings College and is on course to graduate in 2019. All the while, he is formulating a vision for his future based off what he learned by shadowing a dermatologist.
"The best thing I can say I got out of the internship is seeing the amount of time and hard work I'll have to put in," Stogdill said. "I have a long way to go, but I really want to work my hardest to achieve a successful and satisfied life."
By Mallory Gruben, a junior from Eckley, Colorado, majoring in journalism