Levi Cermak '18 has viewed life through an entrepreneurial lens for as long as he can remember. As a youngster, he sold candy bars and bookmarks to his friends and watched his grandparents run small businesses. As a Hastings College marketing and business major with a passion for art, he assisted other students in the Jackson Dinsdale Art Center's glassblowing studio and sold his glass in the community. And, as a contestant at Big Idea Hastings, he was runner-up with his pitch for "Safe Sip," an alcohol delivery service he designed to reduce drunk driving.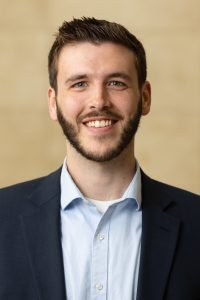 "Entrepreneurship is what moves the needle for a lot of things we care about in society, whether that's solving hard problems, employing people, creating things, generating economic activity or making the world a better, more fulfilling place to live. Entrepreneurship is a force for good," said Cermak, assistant director of the Center for Innovation, Entrepreneurship and Franchising (CIEF) at the University of Nebraska Omaha.
Cermak, who earned an MBA at UNO in 2021, plans to start his own business someday, but for now, he's mentoring others who are eager to take on the risks and rewards of entrepreneurial life. At CIEF, he is responsible for programs that engage students from fields as varied as art and music to engineering, computer science, business and nonprofit management. The center also advises startups and small businesses by connecting them with investors, reviewing pitch decks and offering feedback.
"Anyone we can help in the name of entrepreneurship we will," Cermak said.
Taking ideas from concepts to marketable products
Launching a startup requires more than a creative idea or a new approach to an existing problem, Cermak said. CIEF teaches students the practical and intangible skills they need for success through classroom learning and experiential learning like internships, pitch and business plan competitions, mentoring and a full range of events and activities.
Another of Cermak's responsibilities is the Maverick Venture Fund (MVF), which invests seed capital into startups and teaches students the basics of venture capital and angel investing. Students meet with entrepreneurs and philanthropists, raising about $100,000 in venture capital last semester. Startup founders pitch their ideas to MVP students and apply for funds. The three-semester program currently enrolls students from 20 different majors, with 81 percent remaining in or close to Omaha after graduation.
Cermak also oversees Stedman's Cafe, a student-run shop in Mammel Hall that generates revenue for the CIEF and provides hands-on business experience, and works with the Maverick Technology Venture Alliance, which finds investors for UNO's intellectual property.
Staying engaged with his alma mater
With assistance from Cermak, two Hastings College students — junior Kiante Stuart of Nassau, The Bahamas, and Shawn Hunter, MAT candidate from Windsor, Ontario — enrolled in UNO's Maverick Venture Fund this year. Cermak is working with Hastings College to potentially expand that number in the future.
This spring he also participated as a Hastings College Alumni Mentor in a seven-week program pairing students with alumni in the students' career fields of interest. Cermak mentored senior Noah Bias, a communications studies major from Los Angeles, California, who's considering a career as an independent realtor in California.
"It made me think about what lessons I want to pass on and what skills are important for Noah to learn. It was rewarding to develop that relationship and empowering to feel like I made a tangible difference in someone's life," Cermak said. "I'm always excited to work with Hastings College as an alum."
Cermak emphasizes that students from any major can begin to imagine and prepare for an entrepreneurial career.
"Get your hands dirty and try some things. College is the time to fail — you can fail safely and you can fail well. You can also leverage the fact that you're a student since everybody wants to help students," he said. "Just try things, be curious and pursue your interests."
By Judee Konen '85, associate vice president for advancement