One year ago, sophomore Carly Spotts-Falzone of Wayzata, Minnesota, was all set to attend college in her home state, when she was informed that changes were being made to the college's speech (forensics) team.
She was already scheduled for classes, assigned to a dorm and even a roommate, but with the help of Hastings College alumna Cadi Kadlecek '06, changing colleges so late was achievable.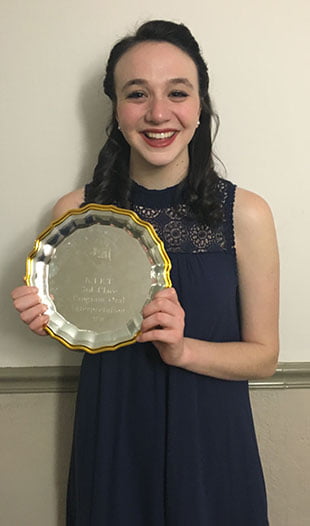 After her family came around to the idea of changing colleges, Spotts-Falzone assured them that speech was her passion and she had to follow it — even if that meant going to school nine hours away from home. Throughout that stressful time, Spotts-Falzone had a full line of support.
Spotts-Falzone met Kadlecek at a summer speech camp in Minnesota, where she was the assistant director of forensics. Spotts-Falzone says that Kadlecek has been one of the most influential people in her forensics career.
"At camp, she was my counselor and taught me so much about how to strengthen my voice and conquer not only speech rounds but also the classroom, my relationships and my life," Spotts-Falzone said.
When Spotts-Falzone made the decision to transfer colleges, Kadlecek gave Spotts-Falzone not only a plethora of options and contacts, but also support behind whatever she chose to do.
"Cadi told me about her experience at Hastings and their forensics program, and from there, I decided Hastings would be the perfect fit for me. I honestly owe so much of where I am today to her," Spotts-Falzone said.
Hastings welcomes her home
When Spotts-Falzone first stepped onto the College's campus, she felt a reassuring feeling that she was home, despite her distance from where she grew up in Minnesota.
"I wasn't mentally prepared to be so far away from home at a school I had just learned about a few weeks prior. However, after I met my new teammates, professors and fellow students at Hastings, I gradually got more and more comfortable," Spotts-Falzone said.
Spotts-Falzone was not the only student who found their way to Hastings from Minnesota; Andrew Boge, Caleb Merritt, Cami Sharratt and Kenzie Shofner, who had met Spotts-Falzone previously at the summer speech institute, also transferred to Hastings.
"It was awesome that the five of us all ended up as teammates after all! I love and admire them all so much as competitors and people, and can't imagine my life without them," Spotts-Falzone said.
After Spotts-Falzone found her footing on campus, she became more involved in other activities and got to know her professors. Her transition went smoothly from there.
"Hastings is such a welcoming place, with such a tight-knit and caring group of students, professors, and administrators, I can't imagine a more perfect first year!" Spotts-Falzone said.
Setting goals beyond competition
After winning Dramatic Interpretation in the first tournament of the season, Spotts-Falzone said she didn't slow down or look back.
She had set several goals, but the two she focused on the most were based in competitive and mental success.
"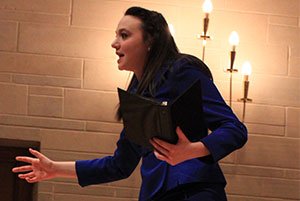 I wanted to make someone feel so much after watching a performance that they cried, and make someone change their mind or think about an issue they hadn't before," Spotts-Falzone said.
Spotts-Falzone's prose interpretation piece was about mental illness; accepting, validating and working through sad or dark feelings, and also appreciating the lighter moments.
"I will never forget when a girl came up to me after a prose round and said my performance helped begin the process to work on handling her depression; and to be honest, statements like that are worth more than all of the national championship plates in the world," Spotts-Falzone said.
Hard work pays off with national success
Amid all of her classes, schoolwork and double majoring in journalism and communication studies, Spotts-Falzone tried to practice at least 20 hours per week, but her total time spent working on forensics greatly exceeded that.
"It took more discipline, self-motivation and time management skills than I knew I had," Spotts-Falzone said.
Dr. John Perlich, professor of communication studies and forensics coach, told her throughout the season that she shouldn't hold herself back just because she was a first year collegiate competitor.
All of her hard work culminated in bringing five events to the American Forensic Association National Individual Events Tournament (AFA-NIET) in Gainesville, Florida. She went on to the finals and finished third in program of oral interpretation, helping the Bronco Forensics team to place 15th in the nation.
"My goal for this year was just to perform, have fun and do my best competitively — although I dreamed of it, I never anticipated being able to perform on the national final stage," Spotts-Falzone said.
Spotts-Falzone thinks the best thing about having this experience her freshman year is getting three more years to perform and share messages with the speech community and beyond.
"To say Hastings College is like a big family is an understatement. The closeness I have with my peers and faculty is irreplaceable. The value of the education I am receiving both in the classroom and out is priceless," Spotts-Falzone said. "Although I took a leap of faith and moved nine hours away on a whim, I landed at home — and to be honest, I can't imagine being anywhere else."
By Jacilyn Bruns, a senior from Grand Island, Nebraska, majoring in Journalism