Since right after her graduation in May of 2016, Nikki Sherrill has spent her days overseeing women's division II volleyball and women's division II basketball for the National Association of Intercollegiate Athletics (NAIA). Responsible for everything from updating ratings, maintaining historic archives and writing press releases related to the sport, Sherrill acts as each sport's "gatekeeper" in her role as a sports communication and information intern.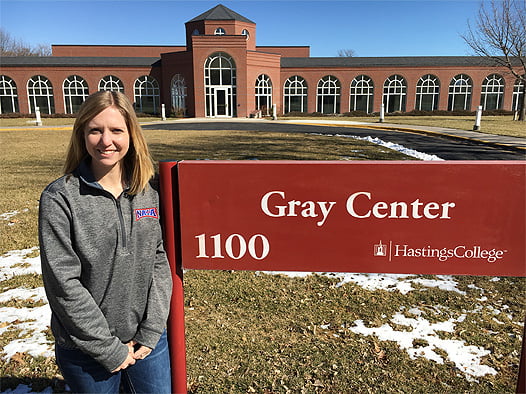 Fresh out of college with a degree in journalism and sports management, Sherrill's post-graduation plans did not include working in sports information. Her sights were set on the realm of her second major, and she hoped to stray from journalistic reporting to sports management and event planning.
"I actually applied at the NAIA for an events operations intern, but you had to be a student athlete to do it, so I didn't meet all of the qualifications," Sherrill said. "They forwarded my information to the sports information department, and this internship just kind of fell into my lap."
The NAIA hired Sherrill on as a sports information intern, and though she was wary at first about the similarities the position might hold to that of a journalist, she soon grew to love her internship.
"I wanted to get away from journalism just because I didn't want to be a reporter for my whole life, but in this role I'm not really being a reporter, I'm more of a gatekeeper of the sport," Sherrill said. "It's like it was supposed to happen because after doing it, now I don't really want to be away from sports information."
Mimicking her media major skillset
Though managing the information for several sports may seem like a large job for such a recent college graduate, Sherrill has faced few obstacles during her internship. In fact, she found that her work with HC Media as a journalism major adequately prepared her for
her role, even when the hustle and bustle of the National Volleyball Championship Tournament rolled around.
As a four-year, seasoned veteran of broadcasting the Women's DII National Basketball Tournament — with her final year spent as a part of the crew that broadcast the championship game on ESPN3 — Sherrill was hardly phased by the demands of championship season.
"It kind of seemed like I was just mimicking what I did in Sioux City for four years. Obviously I had to focus on more than just broadcasting the tournament, but I think just being in Sioux City with HC Media and knowing what the environment was going to be like helped me prepare for it; it would be very overwhelming if I hadn't ever been there and seen it."
Sherrill was also helped by the professional connections she made with NAIA coaches, sports information directors (SIDs) and players, especially those in the Great Plains Athletic Conference (GPAC), during her time as a reporter for HC Media. Many of the SIDs Sherrill contacted recognized and respected her from her work with HC Media, her background knowledge and her ability to write well-informed news releases.
"I think I'm at an advantage because I know these schools in the NAIA, I know where they are at and I know their players," Sherrill said. "It was cool to have that insight; it put my writing on another level."
Sherrill and her alma mater meet again
Sherrill's responsibilities during the national tournament put her back in contact with her alma mater, as the Hastings College Volleyball Team clinched their first national title.
"I knew just from being on ratings calls that other coaches across the country knew that Hastings was good, and they had sometimes said that they were the best team in the country," Sherrill said. "It's hard for me to not be excited about that."
As a third party media source, Sherrill couldn't include her excitement for Hastings College in any news releases and NAIA coverage. Despite her fears of appearing biased, she was able to maintain a balanced perspective, even when familiar faces continued to cross her desk.
"It was kind of tough all year because all of Hastings's fall sports were doing so well, and whenever I had to write about top players it always seemed to be about someone from Hastings College," Sherrill said. "I was worried that people were going to know I went to Hastings and think I was a homer, but I also couldn't ignore when senior Logan Drueppel was leading the country in hitting."
The student becomes the master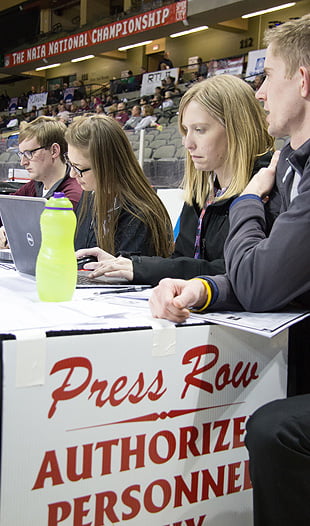 Sherrill reconnected with Hastings College again during the NAIA DII Women's Basketball National Championship, where she served as the tournament's media coordinator. As the the main resource for SIDs and media outlets during the tournament, she maintained the NAIA tournament web pages and coordinated interviews with players and coaches. She also became a liaison between the NAIA and the HC broadcasting crew.
She said it was a "surreal experience" to step out of her former role as a student and into the role of the media coordinator.
"I really was able to appreciate everything that HC Media does in Sioux City now that I could stop and view it from the outside," she said.
Sherrill's new point of view showed her how HC Media fit into the bigger picture of the tournament. Additionally, it allowed her to take on the increased responsibility of ensuring that everything ran smoothly for her former classmates — and the rest of the tournament attendees.
"With HC Media, your sole focus is being a good crew member and producing the best quality broadcast possible," Sherrill said. "This year, I had a bigger list of individual responsibilities. I think the biggest new lesson I learned in this position was that you never really realize how many people go into making the event what is it. There is a person for every small duty, and if those are not met, a lot of the aspects of the championship can fall apart."
A future in sports information
Sherrill will oversee golf, swimming and diving before her internship with the NAIA ends in June. She then plans to start the hunt for a long-term position to begin her career. Though it wasn't a part of her original plan, she now has her sights set on another position in sports information.
"I didn't even intend to apply for this internship, it just kind of fell into my lap," Sherrill said. "It was a blessing in disguise."
Armed with a rich background in media and a unique internship experience in sports information, Sherrill believes she can use her professional connections to secure a permanent position in sports information with a mid-sized college, university or athletic association.
By  Mallory Gruben, a junior from Eckley, Colorado, majoring in journalism