Matt Seeley's sculptures might last only a few days, but for him, that's part of the beauty of ephemeral art.
Seeley '88, a systems engineer, sculpts large-scale creations with snow, creating jumbo characters like a 16-foot praying mantis, oversized gnomes and a sprawling, crawling octopus. He also does sand sculpture and giant 3-D sidewalk chalk drawings.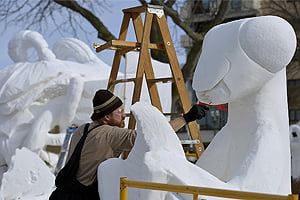 Each January, Seeley takes part in the U.S. National Snow Sculpting Competition in Lake Geneva, Wisconsin, as one-third of Team Nebraska, which also includes sons Taylor and Thane. Over the past nine years, the team has earned several second and third place wins, and Seeley is determined that first place is around the corner. The highlight of his snow-sculpting career so far is representing the United States in the Harbin (China) International Ice and Snow Sculpture Festival in 2012.
Snow, like the chalk and sand with which he also crafts, is a good medium for its economy.
"It's incredibly inexpensive—the snow is free," he said with a laugh. "I can do colossal pieces of artwork. I can work on a scale I could have never worked on otherwise."
His Omaha front yard makes a perfect studio in the winter months, and he always keeps an eye on the sky for Mother Nature's next batch of free art materials.
Seeley initially had a double major of art and biology while at Hastings College, but he decided to concentrate on science and leave the art for hobby.
"Art is a little more personal and precious to me, in a way," he said.
Today, besides taking part in chalk, sand and snow competitions, Seeley tries to encourage creativity in his neighbors and the Omaha community by offering workshops and inviting the public to participate at some of his art events.
"In my own neighborhood, I see a lot of snow sculptures," he says with satisfaction. "What I'm trying to show people is how to get the ordinary person to be more creative."
This is a philosophy that liberal arts colleges like Hastings College understand, he said. Everybody can benefit by incorporating creativity and art into their daily lives.
Seeley isn't bothered by the fact that heat, wind or rain will quickly obliterate his creations.
"There's a beauty in learning things are not permanent," he said. "You've gotta soak these things up while you can."
Story by Amy (McGraw) Palser '99