As she made job changes, moved across the country and took risks, Marissa Sanford said it was important to "be okay with being uncomfortable for a little while" — advice she chose to live by early in her career, and advice that those approaching graduation may want to consider.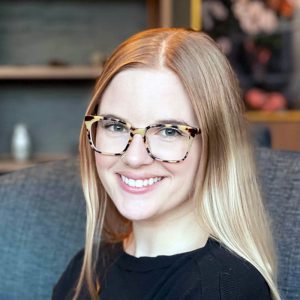 What Sanford, a 2014 Hastings College graduate, didn't know as a student was how each of her passions could be incorporated into careers, and ultimately develop her into a more well-rounded business professional.
Originally a business administration major, Sanford switched to marketing, drawn by how much marketing gave her the opportunity to write, which she was passionate about. After graduation, she landed a job as a marketing coordinator on a real estate team, excited to combine her love for writing and HGTV. She later stepped away to pursue another interest — travel —  and accepted a sales job with Sojern, an Omaha-based digital marketing company built for travel marketers.
While she found sales wasn't a good fit, the skills she gained in that role set her up to seamlessly make an internal transfer to marketing, taking a position as a content marketing associate. That gave her additional work experience — and opportunities to travel.
"Sojern has offices in various locations across the globe, so you could choose to travel and work at the same time. Through this I was able to experience different places and cultures, which was a really cool experience especially being from Herman, a really small town in Nebraska. I planned a trip to San Francisco, which became one of my favorite places in the world," Sanford said.
This love for new cultures and experiences was part of what prompted Sanford and her husband to move to New York City, where they found adventure exploring the city with their dogs, and taking motorcycle trips across the East Coast.
When Sanford first moved to New York in 2017, she worked in marketing communications, and in November 2018 she took a chance and began working for Attentive, a small start-up focusing on text message marketing, which only had 75 employees at the time. Hired as their first content marketer, she's been able to watch and help the company grow from the ground up. Fast forward to today and they now have over 1,000 employees.
"I started building out our content strategy, doing things like running webinars, publishing blog posts and other long form content," she said. "Attentive's leadership really saw the value in content — and continued to invest in the team — so I had the opportunity to build out the content marketing function even further."
While working in a small business environment, Sanford loved the opportunities to try new things and discover different strengths. Along with her continual passion for content marketing, she has found a passion for people management.
"The times that I am happiest at work are when one of the people I manage does something incredible," she said "For me, it's the best feeling to see that happening, and know that I played a part in helping them reach that success, no matter what project or campaign they are working on. It makes me feel really proud, and like I'm making an impact on their careers, too."
Sanford has taken on a relational leadership style when managing people, something she believes makes all the difference when managing a creative team.
"I think that the way people management in general has evolved with our generation is taking on the role of a coach or a mentor versus just being a boss or a supervisor. I want the people I manage to feel comfortable coming to me if they are struggling, or if they've done something really cool and want to share," she said.
The love for start-ups and small business that Sanford discovered through helping Attentive grow, planted entrepreneurial dreams for her distant future, but currently she is enjoying where she is with Attentive. She said her goals moving forward with Attentive are to grow her leadership skills, and to continue pouring into the people she manages.
Though Sanford and her husband recently made the transition back to Nebraska, she is thankful for the opportunities for growth that New York offered her, especially finding her place at Attentive. Through every change and new job, Sanford continues to pursue what she is passionate about even when it is outside her comfort zone.
"The only way you can grow is to get outside your comfort zone, and obviously moving to New York was exactly that. I took a huge risk, and to this day it's the best decision I've ever made," she said.
By Landry Hinkson, a sophomore communication major from Bazaar, Kansas.