Alessandro Rubio, a business administration major from Mexico City, Mexico, believes he's been given an opportunity that most pre-law interns would never experience after their second year of college: spending the summer interning for the Adams County District Attorney's Office.
"My father has been a lawyer for 20-plus years, so since I was a kid, I have always been around the idea of following after my father into the law field," Rubio said. "To be honest, I never really wanted to be a lawyer. Instead, it was always my dream as a little kid to be a professional soccer player."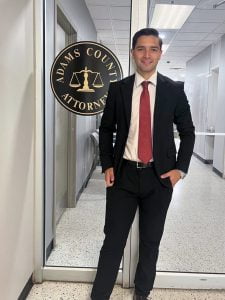 Rubio, who will be a junior this fall, is a midfielder on the Hastings College men's soccer team. Before Hastings College, he played for a professional soccer team in Mexico. That's when he started to notice legal inconsistencies and contract breaches, and players without resources had nowhere to turn. That experience pushed him to go to college and to keep studying, instead of pursuing a career as a professional athlete.
"I want to become a sports attorney to help people who don't have the resources to keep fighting for their professional careers," Rubio said.
Rubio found the internship in February with the help of Kim Graviette, director of Career Services, and Carissa Uhrmacher, assistant director of Career Services. Uhrmacher was able to contact the Adams County District Attorney's office to see if they would be interested in an intern, and within two days of Rubio applying, he was called in for an interview and was offered the internship the same day.
Since then, his duties at the attorney's office have varied, and include everything from organizing classified files to jury screenings to creating visual aids to assisting in anything the county lawyers may need help with. He's also served as a translator for a prosecution case.
"Serving as a translator was an experience that I would have never had anywhere else. Serving in that capacity is something even lawyers who graduate don't encounter after a year or two of working. Being bilingual has created a number of new experiences for me because nobody else in the office spoke Spanish," Rubio said.
Rubio said a class with communication studies professor Dr. Austin McDonald helped him to better connect his thinking process, which is in his native Spanish language, into speaking English.
He said business and economics professor Dr. Bruce Batterson is a great pre-law mentor who is helping him understand the structure and terms used in the field. He also credits student-athlete development coordinator Mickaela Zaffino with helping him recognize and work on the mental and emotional balance between cases that must happen in the professional environment.
Before the start of the fall semester, Rubio said he plans to continue studying for the Law School Admission Test (LSAT), which he takes in early August. He'll also submit his early applicants' forms to several law schools that he's most interested in.
By Cecilia Velarde, a junior marketing and communication studies double major from Loveland, Colorado