Senior Landon Rodabaugh spent his summer in recreation and relaxation rooms, behind the foosball table and within the belly of an adult-sized slide — all the while gaining valuable experience for a future career in software engineering. His summer internship at the Firespring headquarters in Lincoln, Nebraska, was a unique workplace experience that blended work and play.
Firespring is a marketing and printing company that provides integrated print, creative, website, software and IT solutions for a variety of nonprofits and businesses, including the Nebraska Department of Economic Development, Lincoln Airport and CHI Health. Rodabaugh worked as software engineering intern for the Saint Baldrick's Foundation engineering team.  
"My job included writing code, understanding the business logic involved in working with our client and collaborating with team members to improve applications and fix bugs," the computer science and business administration major said.
The position was excellent job preparation for Rodabaugh, who hopes to get a job as a full-fledged software engineer after he graduates from Hastings College. He said his responsibilities were a direct reflection of the duties of a professional software engineer.
Culture: the key to success
In addition to gaining hands-on experience in his field, Rodabaugh's internship also taught him about workplace culture. Firespring is deeply dedicated to creating a positive work culture. Their "informal" values statement reads, "We're the type of people who love to work hard, play hard and everything in between. We rise to any occasion with a smile on our face, laugh at a challenge and laugh harder after dominating the task."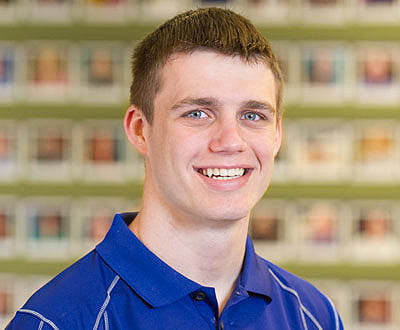 Rodabaugh said the company holds steadfast to these values.
"The biggest difference-maker at Firespring is the way in which they preach and live by their company values," Rodabaugh said. "Every person shows up to work every day to do their best work, and they really do care about the work they are doing and the people they work for."
The Firespring work environment provides the opportunity for employees to hone in on their personal strengths while building off their teammates' abilities. To generate creativity, the company houses amenities like the recreation room — complete with shuffleboard, foosball and table tennis — a massage table and the workplace slide.
The combination of supportive, skilled colleagues with the promise of recreation and relaxation reflects Firespring's "work hard, play hard" mantra. This sets the company apart from most other businesses, which Rodabaugh viewed as an integral part of the Firespring community.
"I loved working in an environment where my bosses believed in the people they hired; it felt like I was a part of something bigger than myself," he said. "At Firespring, they know if they bring in the right people and let those people use their strengths to help the company, then the company will thrive."
Bronco culture creates opportunities
The Firespring culture was comparable to that of Hastings College, Rodabaugh said.  Much like Firespring, Hastings College encourages its students to develop their talents to the fullest and combine their strengths with others through collaboration. The College also offers plenty of opportunities for recreation and relaxation through student activities and special weekend events. The deepest similarities, though, lie in the eclectic and talented mix of individuals in both places.
"Anytime I am asked what the best part of Hastings College is, I always say the people are what make it," he said. "That is definitely similar to Firespring."
The people of Hastings College have played an influential role in Rodabaugh's journey as a software engineer. He said his peers and mentors at Hastings have connected him with job opportunities that prepared him for his future, including his one-of-a-kind experience at Firespring.
By Mallory Gruben, a senior from Eckley, Colorado, majoring in journalism