The circle of life has taken one Hastings College graduate from directing college plays to managing Broadway shows.
Tom Reynolds '98 has been working behind the scenes on "The Lion King" at the Minskoff Theatre in Times Square in New York City since 2007. As one of the show's five stage managers, he is responsible for making sure what happens on stage goes off without a hitch. Armed with a headset and flashlight, Reynolds keeps the actors and crew on track and troubleshoots occasional problems so the audience never sees a mishap.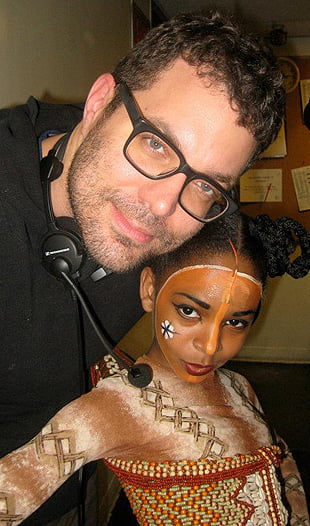 "We check that everyone has arrived and everyone is working. One of us will call all the lights and sound cues. There's one person on either side of the stage and one in the basement," he said.
The musical, which has won 70 major theatre awards and is the third longest running show on Broadway, is performed eight times a week.
Reynolds started out as an art major at Hastings College, but in a required theatre class, his passion broadened.
"I sort of found my people," he said. "With the Theatre Department, you are in such a group environment."
He transferred to a university for one semester until he realized that he had to be a graduate student in order to do the things he had already been doing in the HC Art and Theatre Departments. He returned to Hastings to earn a double major in art and theatre.
"At HC, doing was learning. At other schools, you're sitting there and listening," said Reynolds, who relished the opportunity to hone many different art and theatre skills at HC. "That helps prepare you for a professional career. You're not just good at one thing, you're good at a lot of things."
Story by Amy (McGraw) Palser '99