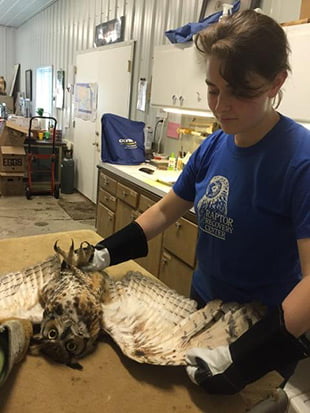 After several years of volunteering for Fontenelle Forest Raptor Recovery (FFRR) in Bellevue and Omaha, Nebraska, senior Carolyn Clements is now able to do more than shuttle injured birds to a rehabilitation facility.
In years past, Clements assisted with transporting the birds around the state. This summer, though, her work with FFRR, which locates, rescues, rehabilitates and releases injured birds of prey, is on-site. She will help with the day-to-day chores involved with keeping the birds.
"This summer I will do a little bit of everything," said Clements. "In the beginning, I will do smaller tasks like cleaning and feeding and work my way up to rehabilitation procedures as I learn more. I will also help with the educational presentations and demonstrations."
The presentations are given on request, frequently to groups including Boy and Girl Scout troops, summer camps and museums.
A wildlife biology major, Clements wants a career in wildlife rehabilitation. She hopes this summer internship will give her real-world experience and a better understanding of this type of career.
Clements first heard about the rehabilitation group when she attended an event hosted by Nebraska Wildlife Rehab, releasing rehabilitated bats at an art museum.
"I always thought that I would grow up to be a vet, but as I got older I realized I'm more interested in wild animals than hamsters and house pets," said Clements. "Wildlife rehabilitation is more my area of interest because I can help make a difference in the animals' lives and still be around the kind of animals that interest me more."
According to Clements, birds come in from across Nebraska and surrounding states. If people find a bird in their yard or on the road, they can report it. Birds turned in to vet clinics and humane societies are also brought to FFRR for care.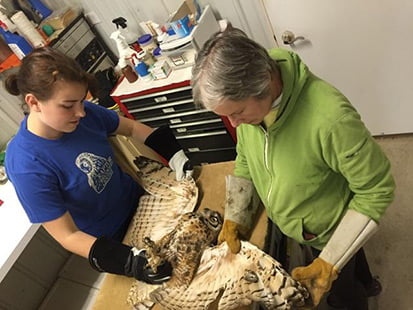 "Volunteers will pick up owls, hawks, and 
other species that have been hit by cars, shot (illegally) or otherwise injured," Clements said. "Lots of babies come in every year when trees fall or they are orphaned. Depending on the nature of the injury, raptors will be treated and released, or kept for longer rehabilitation. Some cannot be returned to the wild and are kept as educational resources for the programs FFRR teaches."
Clements said she is looking forward to getting to know the raptors' personalities.
She said, "Each bird is different, and I can't wait to start working with them. FFRR has several resident owl and hawk species, as well as a bald eagle, turkey vulture and several smaller falcons."
By Amanda Miller, a senior from Woodland Park, Colorado majoring in journalism