For Jennifer Schmidt '17, opportunities abound behind the lens of a camera. Her photography and videography skills have introduced her to Napoleon Dynamite, helped her bring news to audiences across Nebraska and secured her two professional positions.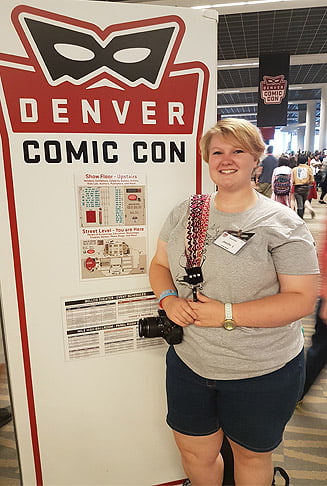 Just months after graduation in May, the Hastings College journalism graduate leveraged her multimedia know-how to find early career success with a unique volunteer opportunity at Denver Comic Con and a full-time position on the NTV production staff.
In late June, Schmidt's media skills became her ticket to an annual pop culture convention visited by more than 100,000 people. As a volunteer photographer for the convention's digital media team, she could combine her passion for photography with her first-ever trip to Denver Comic Con.
"About halfway through my senior year, I realized I wanted to build a future career around photography or videography," Schmidt said. "Volunteering for Denver Comic Con's digital media team was one of the first steps in doing that."
Denver Comic Con is a three-day fan convention hosted by Pop Culture Classroom, a nonprofit organization focused on improving education and literacy through the tools of popular culture. Attendees can meet stars and authors of popular comics, sci-fi, fantasy and Japanese animation shows, movies and books; participate in cosplay (dressing up as pop culture characters); attend celebrity panel discussions; and visit exhibitors and vendors at merchandising booths.
During the convention, Schmidt worked two-hour shifts to capture the essence of Denver Comic Con. Each day she photographed exhibitors as they set up booths and interacted with convention attendees. She also snapped photos of any special moments.
"One of my favorite photographs was of a six-year-old boy who was dressed up as Spider-Man," Schmidt said. "He had walked up to a group of cosplayers dressed as the Justice League to ask for a picture with them. You could tell how excited he was to meet these characters in real life."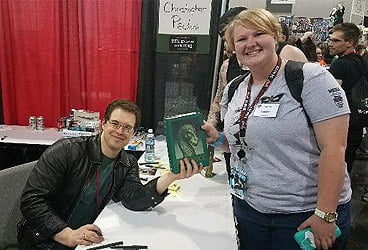 The excitement transferred to Schmidt, who was able to explore the convention as a spectator once her shifts ended. In her off time, she met Thomas Estrada, the assistant animator for several movies including "The Road to El Dorado," "Treasure Planet" and "Shark Tale"; the Phelps twins, who play Fred and George Weasley in the "Harry Potter" movies; Kate Mulgrew, who is known for her roles as Captain Kathryn Janeway in the "Star Trek: Voyager" TV series and Galina "Red" Reznikov in the "Orange is the New Black" Netflix original series; and Christopher Paolini, author of the Inheritance Cycle book series, which includes "Eragon."
"Probably one of the best celebrity encounters I had was with Jon Heder," Schmidt said, speaking of the actor best known for his breakthrough role as Napoleon Dynamite. "We were waiting in line for him to show up for autographs and photo ops when a volunteer made his way down the line to make it more compact. After a few seconds of looking at the guy, I realized it was Jon in a volunteer shirt! It was the best celebrity entrance, and it showed us that he's got a good sense of humor."
Professional-caliber portfolio
While Schmidt's memories of the convention will stay with her, photos she took for Pop Culture Classroom remain with the nonprofit for use in its marketing materials.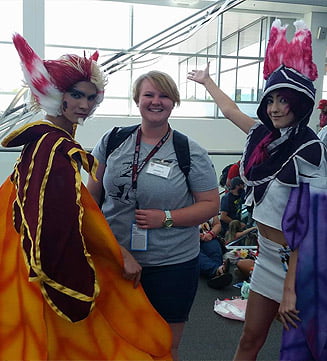 The professional use of each volunteer's photos adds a competitive element to the application process, and each applicant must submit a portfolio of their previous works to be considered for the job.
Schmidt said she was the only applicant from Nebraska the digital media team interviewed — an unusual circumstance because most volunteers for Denver Comic Con are recruited from within Colorado. The quality of her portfolio helped her secure the position despite her distance from the convention's location. She attributed her success to her Hastings College experience.
"Honestly, I wouldn't even have a portfolio without Hastings College," Schmidt said. "The photos I submitted were mostly shot for assignments I had for the 'Collegian,' my Office of Marketing and Communications internship and my photography classes. My colleagues and faculty mentors at the college were always concerned about what I was doing, so they made sure I was practicing my skills instead of just sitting around."
'Back to Jen, in the studio'
At the end of Comic Con, Schmidt turned in her photographs to Pop Culture Classroom and returned to Nebraska to work behind different lenses: television cameras at NTV.
Since June, Schmidt has been employed at NTV's Axtell, Nebraska, station as the assistant morning director. Like Denver Comic Con, Schmidt's experiences at Hastings College played a large role in her employment at NTV.
She first heard about the opening from her colleagues with the Hastings College Office of Marketing and Communication.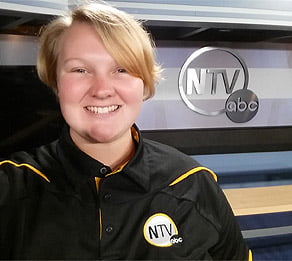 "I had completed at least 30 other applications, but NTV had never even crossed my mind," she said. "It wasn't until one of my supervisors at OMC suggested it. She used to work there, so she helped connect me with Matthew Weesner, NTV's news director."
Weesner quickly followed up with Schmidt, inviting her to the station for an on-site interview. By the time she left Axtell, Schmidt had already informally accepted a position with NTV; all she had to do was submit a formal application.
"It was almost like I did the entire process in reverse," she said. "A few weeks after I completed the online application, I got a call from the station with the official job offer."
Preparing to direct
Schmidt transitioned into her new role easily, in part because of prior experience in the television studio. Though NTV is the first professional station she's worked for, she's already had practice with the production skills her job demands.
"Helping HC Media broadcast athletic games, traveling with the media team to Sioux City to broadcast the DII Women's Basketball National Championship and spending a semester as a producer for Bronco News Now really helped me," she said. "NTV is more advanced, but the skills are similar."
Thus far, Schmidt's job responsibilities have included operating the studio cameras or controlling the audio elements for Good Morning Nebraska, NTV's Good Life and NTV News at Noon. Eventually, she will graduate to directing these live productions.
"Part of me is nervous because I still don't know how to direct a show, but part of me knows once I start, I'll love it," Schmidt said. "Plus, with the Nebraska State Fair coming up, there will be chances to learn even more about live productions."
Armed with a camera and a refined multimedia skillset, there's no telling what exciting and unique opportunities await Schmidt from behind the lens.
By Mallory Gruben, a senior from Eckley, Colorado, majoring in journalism