Hastings College sophomore Jessica Petty recently partnered with the Team Jack Foundation to raise awareness for pediatric brain cancer and to raise money for those affected. For her, however, it's about more than just doing what she can to help others.
In 1999, at only 14 months old, Jessica underwent two surgeries for pediatric brain cancer. At the time, her family was in the process of moving from Arizona to Lincoln, Nebraska.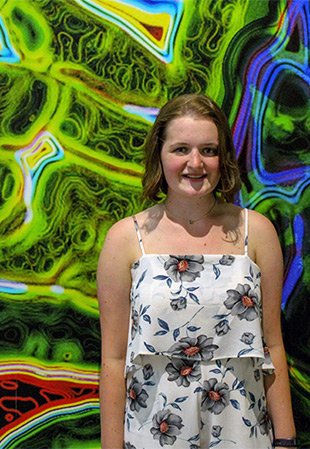 While still in Arizona, Laurie, Jessica's mom, was worried about her, as she had been fussier than normal. She took Jessica to the pediatrician, but the doctor said she was just recovering from a cold and would be fine.
After visiting the pediatrician's office, the two took a quick trip to Costco. Laurie was placing her items on the conveyor belt when Jessica lost consciousness, stopped breathing and began to turn blue.  
"She was having an apneic spell…and so that just means that she stopped breathing, but then she would spontaneously start again," Laurie said.
Luckily, the man behind them in line knew CPR, so he pushed everything off of the conveyor belt and began to resuscitate Jessica. She was later taken to Tucson Medical Center. While having an MRI, she had another apneic spell, and the medical team determined she had a brain tumor.
Jessica was airlifted to Phoenix Children's Hospital where she had her first surgery. It was there Jessica's parents learned their daughter had choroid plexus carcinoma, and the next morning Jessica had brain surgery to remove the tumor.
The family then visited the University of Nebraska Medical Center in Omaha where Jessica "was going to be evaluated for potential bone marrow transplant or high-dose chemotherapy," said Jessica's father Joe.
The doctors suggested Joe and Laurie get second and third opinions because Jessica's tumor type was so rare. The family went to Duke University, where the doctors said they didn't believe Jessica would need a bone marrow transplant or high-dose chemotherapy. Jessica soon underwent a second surgery at Duke to ensure all of the cancer was gone. After the surgery, the doctors confirmed no traces of the tumor were left.
Just five years later, Jessica was considered cured. However, she began to experience painful headaches in high school and started taking medication to cope with them.
"At the time, I was just thinking 'Oh, it's just a migraine. It's not a big deal,'" Jessica said.
Off to college
When it came time to send Jessica off to college, Jessica's parents were worried about the headaches. Although they didn't happen often, when they did, nausea and vomiting accompanied them, as did a loss of balance.
"If we were picking, we would have liked to have seen her stay closer to home, but she really fell in love with Hastings College, and she felt comfortable there," Laurie said. "We let her choose where she was going to go to college, and she wanted to be a Bronco."
A former Bronco herself, Laurie said she knew how involved faculty and staff are with the students at Hastings College, which helped set her mind at ease.
Jessica began school Hastings in the fall of 2016. Although she didn't experience any headaches first semester, they reappeared at the beginning of January Term and were especially bad second semester.
"It just got so bad that I couldn't tolerate it," Jessica said.
Jessica left campus for home with a week and a half left of classes, and her parents immediately took her to the Mayo Clinic in Minnesota. There, Jessica and her parents learned her headaches were caused by hydrocephalus, a condition which increased the fluid in her brain.
More surgeries
To battle the hydrocephalus, Jessica underwent four surgeries last summer — three in May and one in July.
The goal of the surgeries was to remove the fluid and help Jessica's brain handle the fluid collection on its own. When that didn't progress as well as doctors hoped, a shunt was placed in July to ensure fluid flowed through her brain properly.
Although the surgeries were a success, they did affect her memory, and Jessica doesn't remember much of second semester as a result. Jessica worked with Hastings College to complete three of her classes from the spring and went to Madonna Rehab in Lincoln for therapy.
"Basically, when I first woke up, I didn't even remember what my name was, so we went from that to being ready for college in a matter of months, which to me is pretty miraculous," Jessica said.
Jessica was worried she wouldn't be able to return to Hastings College in the fall, so she made that her goal during the summer.
"If I I hadn't had that goal, I don't think I would have been half as motivated," Jessica said. "I'm very glad I had the mindset that I was going to come back because that's honestly what got me through the summer."
Back to college, sharing the story
Now that she's back on campus for the school year, Jessica said she is doing well and feels like she's succeeding in her classes. Her memory has started to clear, and some vision issues she experienced after surgery have also improved.
"(I'm) hoping that this year can be very boring medically, but I'm very appreciative of all the support I've received here from Hastings College," Jessica said.
According to Joe, Jessica didn't like to talk about her cancer for the longest time, but she's starting to realize that her story can help to motivate others.

"She didn't like to talk about her tumor or any of the illnesses or anything that had happened. She was kind of scared. She didn't want anyone to ever think that something was different, that she'd gone through a different process than what every other kid had done," Joe said. "Through Team Jack, she's realizing her story could hopefully be a big motivational thing for a lot of other kids."
September was Childhood Cancer Awareness Month, and Jessica shared her story on 105.3 WOW-FM of Lincoln as part of the fifth annual Team Jack Radiothon.
Later in the fall, Jessica and other Hastings College students sold Team Jack merchandise at a Hastings College Broncos basketball game to raise money for the organization. The group raised more than $1,000 to help those affected by pediatric brain cancer.
In the future, Jessica hopes to continue supporting Team Jack and raising awareness of the issue of pediatric brain cancer by making Team Jack a formal organization on campus.
"I don't want anyone else to die from this illness, and also for all those who are currently suffering, I want to provide them hope," Jessica said.
By Kirsten Gilliand, a junior from Ainsworth, Nebraska, majoring in education.