Hastings College senior Brett Simonsen of Sutton, Nebraska, interned over the summer at Hastings Physical Therapy & Sports Rehab (PTSR) — but this wasn't his first experience there, as he started shadowing a physical therapist in high school. The internship, which turned into a part-time job during the school year, allowed him to expand his knowledge and dream even bigger for his future after graduation.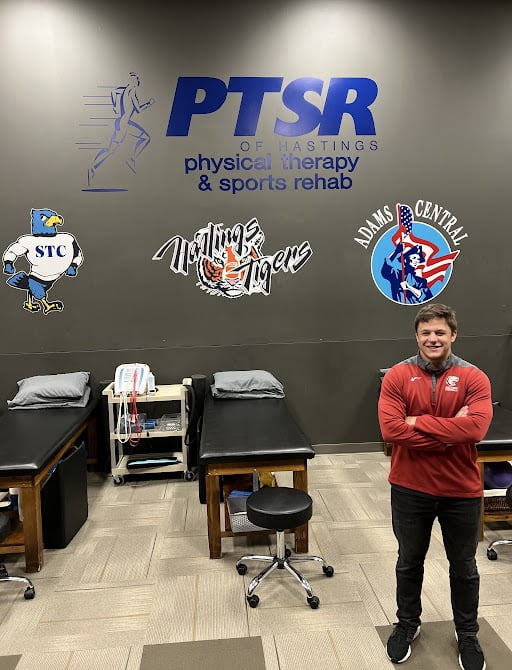 "Physical therapy has always been something I envisioned doing. It enhanced more once I got to Hastings College and started taking the courses that supported physical therapy," said Simonsen, who is majoring in exercise science.
Opportunities dating back to his senior year of high school, Simonsen has continuously sought to expand his knowledge in physical therapy.
In 2021, a Hastings College professor connected him to an opportunity where he shadowed more than 70 hours for Mark Johnson at PTSR for a year. Simonsen continued to shadow in 2022 until last winter when Johnson offered him an internship.
"Although I'm an aide and have limited duties like helping patients with warm-ups or getting heat or ice packs, PTSR has a supportive environment," Simonsen said.
PTSR's cohesive, family-like environment helped Simonsen recognize he was on the right path — and grew his excitement to become a licensed physical therapist.
"My dream is to open an athletic training facility that coexists with a physical therapy center. Strength and conditioning is another passion of mine, I believe a service that will allow athletes to train and get treatment at the same facility could change the game of athletes' health," Simonsen said.
Simonsen said he plans to apply for physical therapy programs at Baylor University and the University of Nebraska Medical Center and continue to work for PTSR until he graduates in December.
By Cecilia Velarde, a junior marketing and communication studies double major from Loveland, Colorado