With a small group of other students during a summer REU (Research Experience for Undergraduates), Julia Thibault worked with a protein called phosphoglucomutase 1 (pgm1), which is involved in the human metabolism and disease.
"If the protein is mutated, then it won't work anymore because you need it to process sugars, to regulate whether those sugars are going to be stored in the body or whether they're going to be used for energy," said Thibault. "If it doesn't work, that's a problem, and that actually results in a disease called phosphoglucomutase deficiency. If you're deficient in the protein then you're going to have some metabolic problems."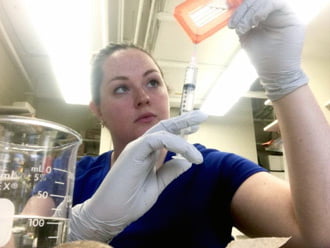 A biochemistry and molecular biology double major, Thibault is set to graduate from Hastings College in May. By taking part in the REU  and receiving an education at a small college, Thibault feels more prepared as she considers which graduate school to attend.
"I'm really glad I had this smaller, tight-knit community to do undergraduate work because now I feel almost more prepared if I wanted to go to a bigger school for graduate school," she said. "I feel like I have a stronger foundation because of the smaller class sizes, where I can talk to all of my professors. I've been able to grow more here than I would have been able to at a larger school."
The REU took place at the University of Missouri, a large school with about 33,000 students, where she was provided housing and food, a mentor, $3,500 and nine weeks to perform research in a lab.
The goal of the research was to look at mutations that had been identified in the pgm1 protein to see what sort of affect the mutations had on the structure of the protein. Thibault said even small changes could have a profound effect on the structure of the protein and how it functions.
"Hopefully the research would give us insight into how to treat it, pharmaceutically or therapeutically, with that specific mutation," she said. "It's all about acquiring knowledge towards the disease."
Now back at school to finish up her last year, Thibault can see the benefits of the REU program in her classroom work and for her senior seminar project. With this opportunity, she had the chance to discover if this kind of work is what she wants to continue to do.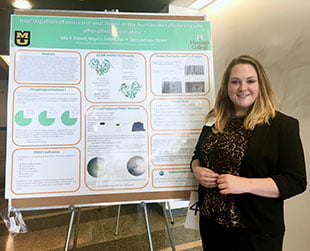 "This experience definitely helped me figure out what specifically I enjoy about research and what specifically were my hesitations," she said. "It [the REU] gives you something to put on your resume, but it can also help you confirm that it's something you would really want to do and devote your life to and gives you experience of insight into the process."
A poster event at the end of the REU gave Thibault an opportunity to share her research with other attending students.
"It was really cool just being able to hang out with everybody and share the research process," she said. "It's really nice as a group to see what other people accomplished. You make your poster and you write an abstract and then you present it so that's another skill set you build."
She also learned about multi-tasking—due to working with protein and bacteria growth and tracking its progress—how to organize her work, build on her communication skills and how to network with professionals.
By Amanda Miller, a senior from Woodland Park, Colorado majoring in journalism