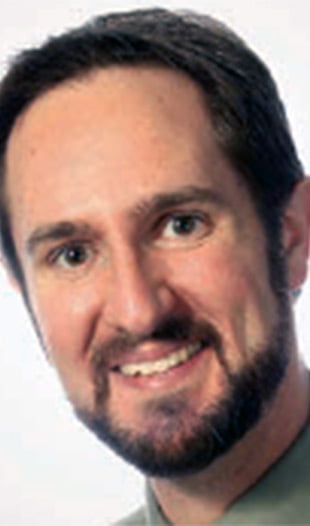 An impressive journalism career has taken Josh Awtry '98 across the United States, and now he's leading efforts to redefine and ultimately save local print newspapers in the digital age.
Josh's vision was always big, though, even when he arrived at Hastings College from Cozad, Neb., in 1993. He saw the potential to utilize the huge array of opportunities at his disposal on the campus.
"Hastings College allows you to have an incredibly tailored educational experience if you reach for it. How many schools give you the chance to perform in the symphonic band, tour half a world away with a saxophone quintet, write and edit a weekly newspaper, make a music video show, do a college radio program, write a halftime marching drill and build the college's first music technology studio?" he said.
He entered HC as a music education major his first year, and, along the way, the small campus allowed him to diversify his experience. He found an equal passion for things happening in the Gray Center for Communication Arts, as well. He ended up graduating with a double major, encompassing both music and communication.
At HC, Josh said he believes he developed a strong ability to pursue ambitious goals and strive for constant improvement and change that has propelled his career in the newspaper industry.
"HC taught me to never accept the status quo. It taught me to question routine rather than go along with it. That skill is of utmost importance in the news industry. As we face a foundational shift in our business and readership models, the industry is calling for people who understand how we got here and what it's going to take to snap us out of it," he explained.
After Hastings, Josh started his newspaper career in nearby Grand Island, Neb., at The Independent. Over the next several years he moved around the country, building his career and reputation at several different newspapers. Then, three years ago, he was recruited by one of the newspaper industry's leading publishing companies, Gannett, to serve as editor of The Coloradoan in Fort Collins, Colo.
"For me, being the editor of The Coloradoan was a chance to apply all of the crazy theories I'd been developing over the years. In the two years I spent there, we completely changed the relationship a community can have with its newspaper…. Revenue went up. Readership went through the roof. Community perception improved."
In the last year, he's made what he hopes is his last move for a while. Still with Gannett, he's now based in Asheville, N.C., as an Executive Editor and Regional Vice President overseeing two newspapers. Josh is excited about the opportunity to continue his efforts toward growth and improvement in his industry. "It's a time for people to understand the past, but not be beholden to it. Someone out there has to figure out a way to help improve the dialogue between news media and the public — that level of public education is too important to ignore — and we're running out of time and financial footing to do it."
Josh, his wife, Karena (Gausman) Awtry '00, and their two children, Allie and Drew, are enjoying their new home in the Carolinas. When he's not working, which is more than a 9 to 5 commitment for Josh, he enjoys time with his family, what he calls "nerdy" hobbies and outdoor adventures.
By Melissa (West) Eich '97