HC Media students and faculty members have witnessed many changes during their 13 years of travelling to Sioux City, Iowa to broadcast the NAIA DII Women's National Basketball Championship, but there seems to be one constant each year:  the presence of someone many students consider to be their mentor.
Chad Power (center below), chair of the journalism and media arts department, has accompanied students to the national tournament in Sioux City since the inception of the program. Power works as part of the team that includes, on average, 20 HC Media students.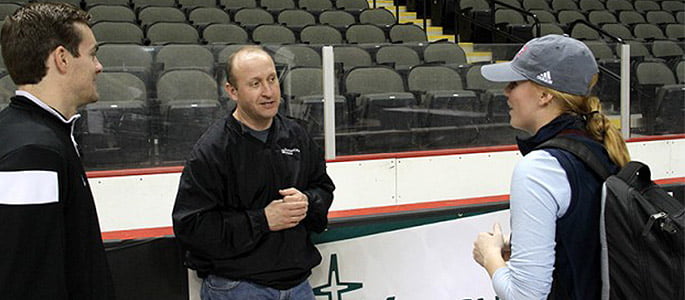 "Organizer-in-Chief"
Although the student media team is almost completely in charge of the broadcasts, their experience is only possible because of Power. In fact, he plays a vital role in getting the students to the tournament as the preparatory organizer.
"He's putting work into organizing this event at least six months in advance, which I think is something that a lot of people don't understand," said McKenzie Wedel, senior and four-year Sioux City crew member. "Some people think it just comes together in the span of a month, but he's communicating with everybody starting in November."
During the tournament, Power assists with technical operations, as well as helps troubleshoot any problems that may arise.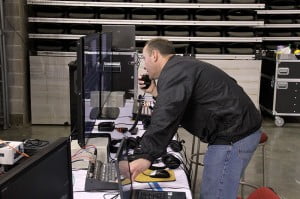 "Chad definitely oversees a lot of the technical side of things," Wedel said. "He also still serves as a mentor for us.  If we are having trouble with something, he is more than willing to … give us whatever help we need."
Even though he is willing to help, Power allows the students to grow by giving them the opportunity to find a solution without his help.
"He's all about making it a good experience for the students, so he doesn't try and step into that leadership role because he wants the students to be leaders and do it on their own," said Nikki Sherrill, senior and four-year Sioux City crew member. "He will step in when we need it the most, but he lets us try and figure it out first."
Court-side learning
Part of his hands-off approach may stem from Power's belief that broadcasting the national tournament provides students with hand-on experience that is valuable to their educations.
"It's the type of education that I've always liked the most," Power said. "You can sit and read from a book or [listen to a] lecture in a classroom, but for the media and the journalism component, the students really get so much out of the experience of interacting with people that are really willing to tell their story."
Power's contributions to the trip have made the one-of-a-kind opportunity a reality for over a decade's worth of HC students, but he remains humble, focusing on the media team's achievements.
"The first thing he will always say at the end of every day is, 'We just did this. We just broadcast this,'" Sherrill said. "He doesn't ever say, 'I did this,' it's all about we. Even though he really connected it all together, he knows that we all work together."
A much appreciated mentor, Power hopes to continue organizing the trip to Sioux City in years to come as a way to provide students with a unique, engaged learning experience.
By Mallory Gruben, a sophomore from Eckley, Colorado majoring in Journalism
Reproduced in part from a story on HC Media Online.