Two internships are better than one. Or in sophomore biology major Geena Piper's case, two internships during a single January Term. Piper has raised the bar and has already started preparing herself for a career after graduation.
For the first half of J-Term, Piper, from Norfolk, Nebraska, spent her time shadowing the professionals at Valley County Health Department, a part of the Valley County Health System Hospital, in Ord, Nebraska.
"They have four family doctors, three physician assistants (PAs) and a nurse practitioner," said Piper. "I spent my time shadowing all nine of these medical professionals. I went into the patient's room with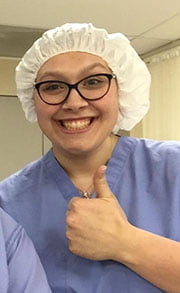 them and  learned how they filled out charts, decided on medical diagnoses and even got to swab someone's nose for influenza!"
Piper recalls her favorite part was her day in the emergency room with Certified Physician Assistant (PA-C) Jeff Breitkreutz, who runs the ER. Even though no patients came into the ER that day, Breitkreutz showed her all the tools and techniques they use when people come in needing trauma treatment. She learned about what to do if an airway is blocked, kids trauma charts, deliveries and c-sections, and the decontamination room. Then she was shown the area where all the special tools were kept.
"The coolest one was a tool they used to get small pieces of shrapnel out of someone's eye," said Piper.  "It was like a very tiny drill that had a cylinder on the top, that they would turn sideways and it would gently brush the piece out of the eye as it spun."
On her final day at Valley County Health, Piper had the chance to travel to a more rural clinic in Loup City, Nebraska. Being in a more rural community is where she wants to ultimately end up.
Learning inside and outside the classroom
For her second internship, Piper spent her time at Nebraska Medicine-Internal Medicine Associates in Grand Island, Nebraska, shadowing Dr. Michael Donner.
What resonated with Piper the most, both professionally and personally, during this internship was learning about the effects of diabetes.
"I have a family member that is type 1 diabetic," said Piper. "This, along with learning how cell signals relate to diabetes from my biology class, really helped me understand what they are going through. It was cool to see the relationship of what I am learning in school to what I will be doing someday."
Creating limitless possibilities
Even though coming to Hastings College has been a great success for Piper, she initially had other plans in mind.
"My mom went to Hastings College and when I was looking at colleges," said Piper. "I was determined that I was not going to the same college as my mom did. But she made me visit anyway and I fell in love with the campus immediately."
The campus and the class sizes were what drew Piper to Hastings College in the end, and it is these small class sizes and close relationships that have helped her prepare for her internships.
"Having smaller class sizes has allowed me the opportunity to get to know my professors, plus they helped me setup my internships," she said.
Because of the close relationships formed in the classroom, she was able to work closely with her adviser, Dr. Amy Morris, professor and chair of the biology department.
Dr. Morris ensured that Piper was getting enough job shadow hours, meeting medical school requirements and getting connected around campus.
As a member of ten different organizations and groups on campus, including Student Alumni Association, Alpha Phi and Resident Hall Association, Piper appreciates that at Hastings College she can be involved in as many activities as she wants.
"I love that I am able to be so involved on campus and I'm not limited to what I want to do," said Piper. "I'm able to explore all of my interests, complete multiple internships and graduate with a degree that suits me."
By Jennifer Schmidt, a senior from Cozad, Nebraska, majoring in Journalism.