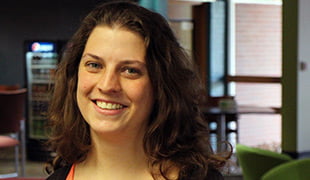 One Hastings College graduate, who is on her way to the Cranbrook Academy of Art, took her senior thesis to an exotic location – the "Path to Culture" display took the form of a cave built within the walls of the Art Center Gallery.
Alyssa Karr-Bliven '14 constructed a cave, complete with winding paths and surprises at every turn, out of welded sheet metal and turned her gallery into an interactive piece of art.
"The project was meant to be community-based," Alyssa said. "People could see the inside of a culture that wasn't immediately recognizable."
Alyssa incorporated the Hastings community into her project while gathering needed metal during the fall semester. Both Rutts Heating & Air and Husker Power Products donated scrap metal for the project. Of that donated scrap, few pieces were large enough to be used on their own, so Alyssa welded them together to create more than 40 sheets of 4'x8' metal.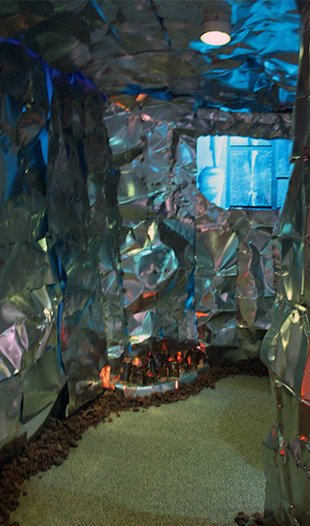 "A big part of my art is to find inexpensive materials and repurpose them. I used scrap metal, ball bearings, metal coat hangers and muffler pipes in the cave," she said. She got her husband Joseph, a 2013 Hastings College biochemistry graduate, and her father to help carry and set the pieces in place – no small task considering the installation weighed in at more than 2,000 pounds.
Inside, the cave was lit with blue lights and the illusion of embers beneath sets of ceramic tubes.
Seven ceramic masks hung on the metallic walls. A sea slug stood guard over a sculpted table and turtles stacked themselves on recessed shelves. Visitors were invited to explore the cave, and perhaps even find a little treasure in the form of ceramic coins hidden within the structure.
Although she is an accomplished artist, Alyssa didn't begin her college career as an art major. She originally settled into Hastings College as a biology major on track to becoming a veterinarian. There was just one thing wrong with that picture – she's allergic to animals.
Having grown up near Hastings, she also wasn't sure about staying close to home.
"The last place I wanted to go was Hastings College; it's too close to my parents," Alyssa said. "I actually toured the University of Nebraska before coming here, but the small community was what hooked me. People knew who I was when I walked through the door, and that personalized aspect is what drew me."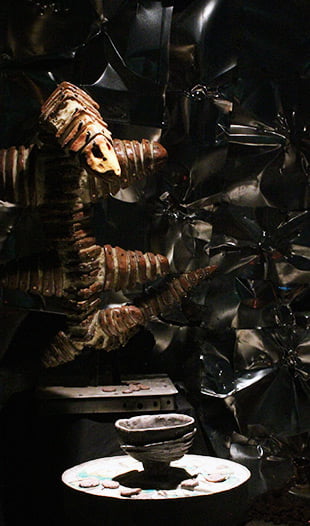 Living close to home also had its benefits, as Alyssa moved into larger art pieces. For the cave, she was able to store the materials and pieces at her parents' home while she worked. Alyssa also credits part of her inspiration to her family and her childhood, although the idea came to her during her junior thesis two years ago.
"Dad is a mechanic and I've always been around metal. Caves and metal are comforting to me – I would do my homework in the cave if I could," she said. "I struggled to make it comforting and cozy for everyone else, but the colored lighting really helped."
While her time at Hastings College may be over, Alyssa is far from done with art.
"I'm off to the Cranbrook Academy of Art in Michigan," she said. "I applied thinking, 'I'll never make it…but why not.' It definitely paid off."
The Cranbrook Academy of Art has 150 students and only 16 of them work in metals. Alyssa was one of eight students accepted to the Metalsmithing Master of Art program, and will have the opportunity to continue her art and experience Cranbrook's studio experience and the artist-in-residence program.
By Kaitlin Grode '14