For three Hastings College graduates, enjoying the Omaha arts scene is all in a day's work.
Amy (Krobot) Rummel '94, Kori (Else) Radloff '95 and Jessica (Hardy) Brummer '04 are all marketing directors working to promote the arts in Nebraska's largest city.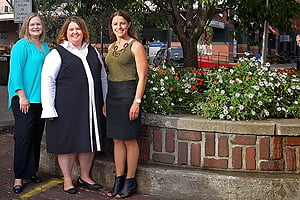 Rummel is director of marketing and public relations for Joslyn Art Museum, Radloff is director of marketing for the Rose Theater and Brummer is director of marketing and public relations at Durham Museum.
"It's actually really interesting that you have three Hastings College grads working for three major arts organizations in Omaha," said Rummel, who earned degrees in English and public relations at HC and joined the Joslyn staff in 1998.
The trio's paths often cross when working on tourism strategies, planning joint events or even when doing media interviews.
"We run into each other in the funniest places," said Radloff, who started out majoring in theatre and music at HC but later switched to communications. "We run into each other in the lobbies of radio stations!"
Brummer said she and Radloff partnered together this summer when Durham featured the "Shipwreck!" exhibit and the Rose Theater performed "The Little Mermaid."
"The Omaha arts organizations really are a tight-knit, supportive group. We're all unique in what we do, but we're all important to the community," said Brummer, who studied advertising and communications at HC.
Durham is a museum of history, culture, science and industry located in Omaha's old Union Station. Joslyn has an expansive collection of art from around the world, including sculpture, pottery and paintings that date from ancient to modern times. The Rose Theater provides live shows and education for children and families, presenting nine main-stage shows a year and 16 shows in its black box theater.
The three women said they love that their jobs allow them to be immersed in art and to encourage others to do the same.
"The arts are really a major factor in quality of life," Rummel said. "If people are considering where they want to live and work, the art scene really plays a large part."
Brummer believes a community is healthy when it has strong arts organizations, so it makes sense for the three HC grads and colleagues to support one another.
Said Radloff, "We're all trying to encourage a love of the arts."
Story by Amy (McGraw) Palser '99