After spending time at her dying grandfather's bedside, Morgan Savage, a 2006 Hastings College graduate, decided to enter the field of nursing. She saw the ways the nurses impacted his life and wanted to be there when people needed her most.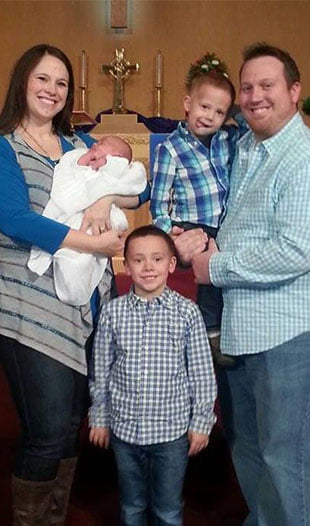 "Day in and day out, I witnessed the unfailing compassion, nurturing and comfort that the nurses were able to provide him," said Savage. "I saw the tremendous impact that they had on his life, and the joy they were able to bring him in his dying days."
During her time at Hastings College, Savage had an undeclared major until her sophomore year, when she worked with her advisor to find out which major would be best to prepare her for nursing school.
"As I researched nursing schools, I realized that I could still get my degree from Hastings College and then move into a one year Accelerated Nursing Program," said Savage.
After evaluating the courses required for entering nursing school, as well as majors that utilized credits she already completed, it was decided a Biopsychology degree was the perfect fit.
"I was anxious to get into nursing school and wanted to complete my Hastings College degree as quickly as I could," Savage said. "My advisor told me it would be very difficult, but helped me to work out every detail to be sure all of my course requirements would be met. With full summer class loads, a lot of hard work and a little bit of scheduling luck, I was able to complete my Hastings College degree in three years."
After completing her degree at Hastings College, Savage continued her education at Creighton University's Mary Lanning Healthcare Nursing campus. On such a small campus, Savage was able to get the attention she needed in order to enjoy learning about nursing and get frequent one-on-one time with professors to discuss patient's cares, disease processes and medications.
From there, Savage spent over four years as a labor and delivery nurse at Mary Lanning Healthcare but switched over to Mary Lanning family care clinic.
Savage is now working as a Clinic Nurse Mentor for Mary Lanning Family Practice Clinics, directing patient care, she is in charge of orientation of new clinic nurses, she evaluates nurse process improvement and maintains process consistency throughout four family practice clinics.
"Today I am very happy with exactly where I'm at," said Savage. "I have a challenging and rewarding job.  I'm a busy wife and mother of three amazing boys. And I still am able to enjoy playing volleyball and softball in my spare time. I love that I can have a meaningful career that fits my lifestyle in this moment. The career possibilities with a nursing degree are endless. It's exciting to know that I can still choose to grow in so many different directions."