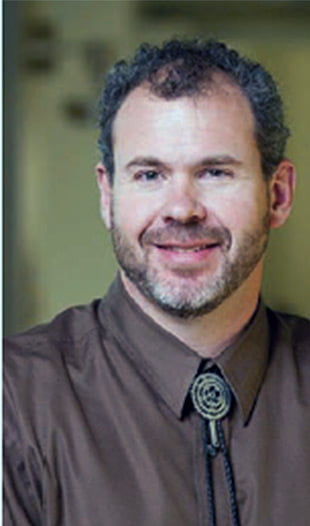 For many small town and rural inhabitants, having a specialist at their disposal is typically not possible. Dr. Allen Gee '88, a psychobiology major from small town Nebraska, is bridging that gap in Wyoming with the use of telemedicine.
After receiving his undergrad from Hastings, Allen attended the University of Nebraska Medical Center (UNMC) where he completed his PhD in Psychoneuroimmunology in 1994, and his MD in 1996. His internal medicine internship was at UNMC and his neurology residency was at the University of Utah, where he was Chief Resident from 1999 to 2000. Allen began practice in Sheridan, Wyo., in 2000 and currently has offices in Cody and Casper, Wyo., with clinics in Sheridan and five other communities.
Allen, who resides in Cody, was recognized earlier this year for his efforts to reach out to and treat patients through the use of technology and a virtual practice, relieving the burdens of both time and expense for patients in rural communities.
Most Wyoming communities have a population of fewer than 10,000 people, and are typically unable to support medical specialists. This forces patients to drive to clinics, sometimes hundreds of miles away. When Allen first started practicing, he saw a patient who had been living with multiple sclerosis for 14 years but had never seen a specialist due to geographical and financial barriers. With the use of technology, Allen said treating a patient is more than just talking to a head on a screen.
"I can talk to the patient, see them walk, see them move, and working with a physician extender I can virtually be there," he said.
Allen's goal is to provide better care to patients in rural Wyoming and bridge the geographical barrier by bringing his practice to a virtual setting.
"Geography is a serious barrier to healthcare in Nebraska and Wyoming. I grew up near Palmer, Neb., and know firsthand of this barrier," he said. "Most communities in Wyoming cannot support a breadth of expertise for best patient care. Telemedicine has been attempted for many years in various forms, yet has been costly and inefficient. I believe technology can bridge the geographic barriers to healthcare and have, for more than a decade, explored effective solutions."
Audio-visual connections work better and at lower costs now than ever before. The key elements to bridge the barrier is Health Information Technology (HIT) and Health Information Exchange.
"I have been able to leverage the cloud-based HIT service solution of athenahealth to improve the access and quality of healthcare in rural Wyoming and improve the financial stability of my private practice," Allen said.
Allen was the 2014 recipient of a national Vision Award from athenahealth, a leading health information technology company, for his work using technology to bridge geographic barriers to healthcare and hisvision to make health care work.
By Maggie Meisinger, a senior from Littleton, Colorado, majoring in advertising/public relations