Eboni Nash, a senior at Hastings College, dreams of opening restorative program for people experiencing incarceration. A triple major in sociology, psychology and religion, Nash was looking for an internship that would allow her to explore what running such a program would look like. And Sunshine Enterprises in Chicago, Illinois, was the perfect place.
Sunshine Enterprises launched in 2012 and provides classes in how to be an entrepreneur, mentoring and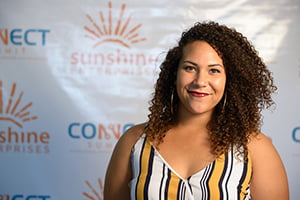 other forms of aid for recently incarcerated people. Over the summer, Nash worked in many of these classes and to sat through cohort groups for returning citizens in several areas of the city. She also assists formerly incarcerated individuals with their next steps into launching  their own business.
Other responsibilities include connecting with alumni of the programand making sure current participants receive and complete homework assignments. On Tuesday and Thursday nights, Sunshine Enterprises has simulation and mentoring, which Nash helps to organize. "Each day with Sunshine is something different," she said. "It is a healthy and vibrant work space. I find myself excited to go to work and being able to build connections with people each day."
For Nash, the connections she's made are as important as the work experiencing she's gained. "Each interaction or connection I have made has changed me immensely," Nash said. "Whether it was the many formerly incarcerated people I met, authors of books, activists or even the workers at Sunshine, I can say that I have always taken something from the conversation."
Nash's learning experience in Chicago isn't limited to her time at Sunshine Enterprises. "I am also living in a full immersion program called the Chicago Urban Program with seven other minority women," Nash said.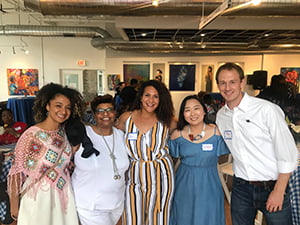 "We've learned to live intentionally with our neighbors and on the budget that is common in our area. It has given me the opportunity to see things from a different perspective."
Nash said classes at  Hastings College gave her  the skills and courage to take on the internship. "In my past three years at Hastings College, I've found my classes in sociology has helped me the most with understanding how Chicago and the correctional system works," she said.
This summer has also affirmed Nash's decision to work to support  formerly incarcerated individuals. "This internship allowed me a first-hand look at what it is like to be the next step for formerly incarcerated individuals," Nash said. "I want to create my own restorative program for people experiencing incarceration; and this internship was the perfect start to my dream."
By Anna Weber '18