As her graduation from Hastings College neared, Hannah Jensen '15 wasn't sure exactly how she would apply her double major in piano performance and music education outside of college. Little did she know, an opportunity to combine music and serving others would present itself to her, providing her with an experience that would drastically change her outlook on life.
"When I was thinking about what I wanted to do after graduation, I knew that I wanted it to involve music, and I knew that I wanted it to involve helping people," Jensen said. "I was talking to Alayna O'Connell ('14), one of my good friends I went to high school and college with, about how I didn't know exactly what I was going to do once I graduated. She had been connected through her Episcopalian church and went to the Dominican Republic after she graduated, and she said that I should go, too."
O'Connell connected Jensen with the director of her church's program that coordinated service projects in the Dominican Republic. Jensen's musical expertise gained at Hastings College made her the perfect candidate for a three-month job of teaching seminary students about music.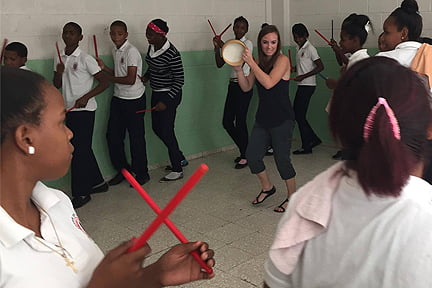 "It just worked out so perfectly that I didn't think I could pass the opportunity up. I would be incorporating teaching music to people that were in need; it was exactly what I wanted to do," Jensen said.
Jensen set out for the Dominican Republic in mid-September, but over the course of three months, her trip blossomed into something much larger than expected.
Spreading the love of music
"When I went down originally, I was supposed to teach music at an Episcopal seminary, but as I was down there they found more things for me to do," Jensen said. "Attached to the seminary was a preschool that I also taught music at, and I taught at different elementary schools in Santo Domingo."
During her three month stay in the Dominican Republic, Jensen worked with students from as young as three to as old as sixty. She quickly discovered that no matter the age, most of her students lacked a formal foundation for music.
"Music isn't taught there in the schools, so even the adults I taught had never had any formal music training. It was starting from square one with all my students," Jensen said.
Jensen traveled across the island, hosting short classes in local schools while at the same time continuing her work with the seminary students. Though the focus of her trip was spreading a love for and knowledge of music, she was just as influenced by the culture as her students were her lessons.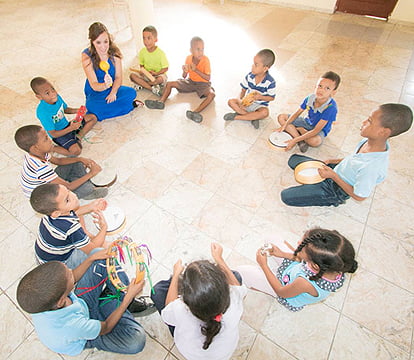 "Everything is so relaxed and comfortable there. When I was with the seminarians in class, sometimes we would just start making music on the spot, and it was so free," Jensen said. "I try to think back to those times when I'm stuck in a rigid, serious mindset about music."
The experience allowed Jensen to reflect on the role of music in her life, tying her close with her lifelong passion.
"Music has been a very big part of my life since the day I was born; I was brought up in a musical world," Jensen said. "Going somewhere that had…a completely new musical environment helped me appreciate what I grew up in, what I was taught and all the musical knowledge I have now."
A new perspective  
Apart from music, the Dominican culture found ways into Jensen's lifestyle. Immersion in a different culture introduced her to a new perspective on stress and gratitude.
"There will be times when I just get so stressed out about the littlest things, and it's so silly thinking about it because I look back on how that culture reacts in stressful situations or in hard times," Jensen said. "They understand that it's difficult, but they are still so grateful for life, love and everything they have. I'm learning that I still have to work on taking a step back from the little things, but I'm glad that I had the experience to learn what the opposite of that is."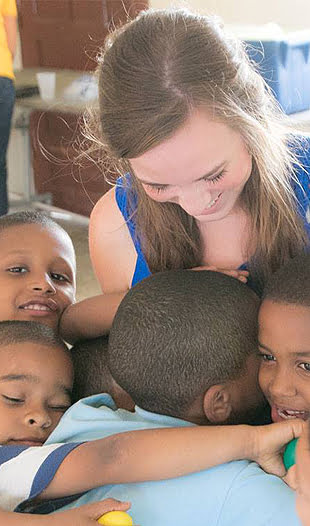 The chance to experience another culture while sharing music was a unique experience that helped Jensen develop a deeper understanding of many areas of her life. For her, exploring another culture is an experience she suggests everyone to try.
"I think that if you have the opportunity to travel and be immersed in a different culture, you should take it. Even if it's just for a few weeks or months, you should just give it a shot because there's things that you don't even know that you will learn," Jensen said. "I was scared to death to go, but at the same time I was so thankful and I learned so much about myself and what's important. I wouldn't have had that eye-opening experience if I had not gone out of my comfort zone and traveled."
Jensen attributes some of her success teaching music in the Dominican Republic to her experience at Hastings College. Not only did she feel she had gained the education she needed to teach others about music, but also the dynamics of the classroom helped her develop skills to overcome new challenges.
"I think a liberal arts education forces you to get out of your comfort zone by taking classes you don't know anything about. I had to push myself to be successful in these classes," Jensen said. "Being immersed in a culture that made me uncomfortable at first, I think I drew a lot of things from my liberal arts experience that helped me get through harder parts."
Since her three-month trip, Jensen has revisited the Dominican Republic to accompany a mission trip from another church to help with a week-long summer music camp. She plans to return for another week next summer to teach music classes again.
NOTE: This is an expanded article based off a piece that appeared in the Fall/Winter 2016 edition of HC Today.
By Mallory Gruben, a junior from Eckley, Colorado, majoring in journalism