Situated in the middle of a of nearly barren Nevada landscape sits the makings for the biggest building in the world: Tesla's Gigafactory 1. Even with more than 4.9 million square feet of operational space, the facility is only one-third complete.
The ever-growing factory is essential to Tesla's sustained progress toward a zero-emissions future, as it supplies the power source of Tesla's electric vehicles and reduces the cost of Tesla's clean-energy products.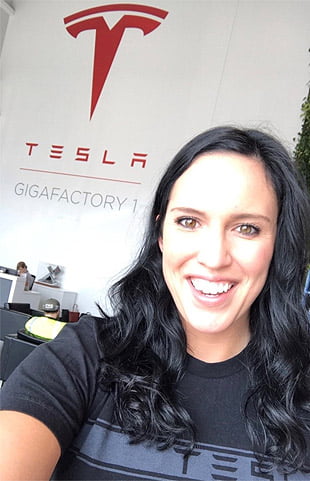 By the time the building is complete, it will generate the equivalent of the world's current total of energy in lithium-ion batteries, all while leaving no carbon footprint.
Completing  Gigafactory 1 will be a major stride toward a future powered by sustainable energy — and 2016 Hastings College graduate Miranda Muhs is a part of the progress.
Muhs is an industrial engineer on the Factory Design Team at Tesla Gigafactory 1, where her primary responsibilities include space planning and design work for the future visions of the company. It's a position that requires her to balance her formal training in mathematics and physics with the "human" side of business.
"Working as an industrial engineer at Tesla is a lot more than sitting at a desk crunching numbers all day," she said. "It's essential I have people skills, too, because I must be able to communicate and work with other engineers, designers, architects and stakeholders."
Muhs credits Hastings College for equipping her with the eclectic set of skills she uses as an employee of Tesla. In fact, her undergraduate experience provided her with a first taste of a career as an industrial engineer.
Hastings connections fuel career goals
As as sophomore at Hastings, Muhs landed a summer internship with Wellhead Electric Company in Sacramento, California. Her exceptional work for the company earned her the internship again the following year.
"My summers in Sacramento taught me a lot about business and interpersonal communication while also exposing me to the design side of engineering. The internship was the biggest launching pad for what I wanted to do later in life," Muhs said.
Interning with Wellhead represented the "big picture" of physics at Hastings College, said Muhs. The position allowed her to explore the multifaceted world of engineering in a hands-on way. Moreover, the internship relied upon alumni connections in 1962 graduate, Hastings College trustee and Wellhead Electric owner Hal Dittmer.
"Hal is very supportive of the physics department at the College, and being able to utilize connections like that is more valuable for undergraduate students than they often realize," Muhs said. "The alumni network is full of genuinely intelligent people, and connecting with these mentors sets you up for success."
Professional connections, like the ones she built with Dittmer and his company, became a prominent part of Muhs' Hastings College experience. Those connections showcased the role compassion and direct mentorship play on Hastings College campus.
"Even if there wasn't an explicit connection, everyone I interacted with at the College genuinely cared about the success of the students. My teachers noticed when I wasn't in class, and that sort of attention and care mattered to me. It made going to school fun," she said. "I appreciate this even more now after attending graduate school, where I experienced a much different environment."   
Muhs' Hastings College education confirmed her passion for industrial engineering while simultaneously introducing her to a broader life mission. Her primary goal is to positively impact the lives of others, just as her professors at Hastings impacted hers.
As an industrial engineer for the world's leading company in sustainable energy, she is able to do just that.
"At Tesla, it's all about trying to save the world before we ruin it. Everything I do is inspired by that mission, and it's the reason I enjoy working here," she said. "I want to accelerate our green energy consumption to build a better world for those around me."
By Mallory Gruben '18