Stephanie Mlynarik, a senior studio art major from Fort Calhoun, Nebraska, is gaining an experience she never thought was possible. Mlynarik spent the summer before her senior year working in the archives of the Stuhr Museum.
"Not everybody gets this type of experience," Mlynarik said.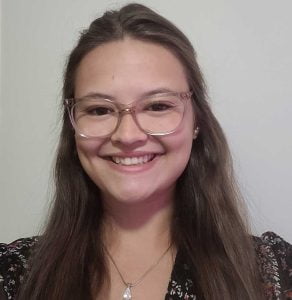 Mlynarik found this internship with the help of the alumni mentoring program. She was partnered with  Ann Martin '77, chair of the Hastings College Board of Trustees who is an artist and retired local business owner. Martin set up a meeting for Mlynarik to meet with Chris Hochstetler, executive director of the Stuhr Museum.
"We had a meeting with him and just discussed what I could possibly do in the future and get some ideas. Then he suggested I apply and see if I could get this internship," Mlynarik said.
At Stuhr Museum, Mlynarik participated in their research library and archive internship.  She helped work on a large project that the museum has undertaken.
"I worked on this huge collection called 'The Leschinsky Glass Plate Negative Collection.' It consists of about 28,000 glass plates," Mlynarik said.
The glass plates in Julius Leschinsky's collection have photos on them that span from the late 1880s to the early 1930s. These photos feature people from Grand Island, as Leschinsky was the premier photographer for all of Hall County at the time. This collection has a lot of Grand Island history in it, making it an important project for Stuhr Museum.
Mlynarik was properly trained to handle all of the glass plates and any other artifacts she might have been working with. She had to first carefully clean each side of the plate, with special attention to the side with the photo on it, then it needed time to dry. While that was happening, she wrote down all the information that could be found on the plate itself. Once a large group of them finished drying, they scanned them into the system.
This process to catalog all the plates in the Leschinsky collection is a long one. There are six different sizes of the plates, but during her time there Mlynarik was only able to help finish cataloging the two smallest sizes.
"They're about a year into it, and their goal is to finish in about another two years, so I'm just a fraction of the progress," Mlynarik said.
Mlynarik appreciated this experience because it answered questions she had about her future.
"That's why I started this internship. I wanted to see if this is some kind of environment I want to be in in the future," Mlynarik said.
She got to see what a 40-hour work week would be like, what an office job would be like and what a behind the scenes museum environment would be like.
Though Mlynarik isn't really sure what she wants to do in the future, she knows she loved her experience at the Stuhr Museum.
"I worked 40 hours a week and I felt like I wanted to keep working because I wanted to help so much more," Mlynarik said. "Summer wasn't enough."
By Ally Banks, a junior English major from Shawnee, Kansas