Determined he would become a doctor his whole life, Hastings College junior Ryan Miller changed his mind during his senior year of high school after taking a class that simply wasn't a good fit.
"At this time I was working at Best Buy and was pretty good at sales," Miller said. "I knew I wanted to do something different than a strict business or accounting or economics degree so I started looking around and doing research, and marketing came out at the forefront. So when I came and toured Hastings College, everyone raved about the program, and it's been awesome. I absolutely love it and am really, really happy I changed from going into pre-med."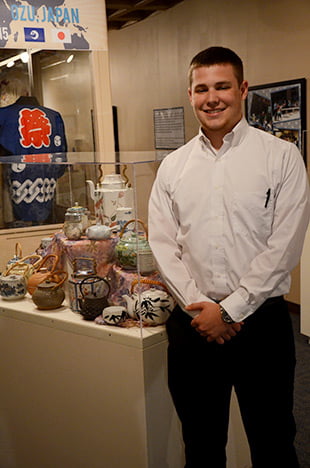 Miller has grown accustomed to the close-knit family feel of Hastings College and has seen this transfer into his first internship experience, making it more comfortable.
A marketing intern at the Hastings Museum, he is working with a small department to get a lot of work done.
"If I was in a bigger team I might only have one thing to do, but here I can take care of smaller tasks so it's been really great having a lot of different experiences all at one place," said Miller. "I'd say that's probably been the best part. It kind of feels like a little work family."
Since the team is so small, Miller is in charge of a lot of the marketing work. He has been revising the website and creating an updated marketing plan. He has also been an entertainer for kids by dressing up as a panda for special group events.
A large portion of Miller's internship is dedicated to the new marketing plan for the museum. He is gathering information from different departments—the museum, the theatre and the store—to analyze whether or not they are achieving their goals.
"It's kind of just a bench mark of where you're at and where you want to be," said Miller. "I've never made a marketing plan, ever, so I'm doing this all brand new. I'm asking a lot of questions and seeing who needs help, which is great for experience but it's definitely been a big challenge figuring out what I'm doing."
Miller said he felt more prepared for the business world after being taught by Dr. Carol Meyer, Professor of Business Administration, and by being a marketing major at Hastings College.
"She and other professors at the college really encourage self-advocacy among students so that's been really great," Miller said. "Most of the professors are super friendly and allow you to ask questions so coming here and not being afraid to ask questions has been another great thing. Strictly from the marketing department, Dr. Meyer does a great job of teaching you how to mingle with co-workers, put together presentations, she teaches you to go above and beyond on your research so that has been helpful for the marketing plan."
From here, Miller said he'll take the knowledge he gains from this internship to determine what kind of marketing he may want to enter into in the future.
Doing research as part of his responsibilities has been something he has really enjoyed.
"I know I want to end up in a more corporate setting and so a goal of mine would be getting into a larger city, working for a marketing firm there doing marketing research," said Miller. "I know I don't want to go into sales or advertising but then eventually, after working there for four or five years, getting my master's degree in marketing and then probably one day owning my own marketing firm." 
By Amanda Miller, a senior from Woodland Park, Colorado, majoring in journalism