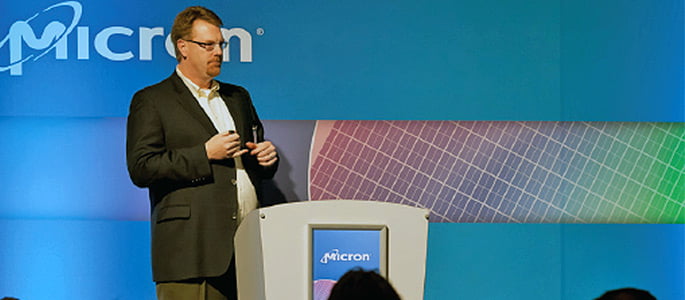 Scott DeBoer '89 has had incredible success since graduating from HC in physics and math. He continued his education at Iowa State University and graduated in 1992 with a masters in physics and then again in 1995 with his doctorate in electrical engineering.
Scott now lives in Boise, Idaho, with his wife Jennifer and three kids, and works for Micron Technology Inc. "I have helped lead Micron from a small Boise company in 1995 when I started, to a successful $16 billion company with teams and facilities all over the world," said Scott. He has also won alumni of the year awards from Hastings College (in 2007), Iowa State University and Millard South High School, and was elected to the Hastings College Athletic Hall of Fame in 1997.
Scott is Vice President of Research and Development for Micron Technology Inc., and said he leads a team of around 3,000 people who develop the technology for future products at Micron. The team is based in Idaho, California, Japan, Singapore, Italy and India. Micron Technology is the second-largest memory company in the world, Scott said, with about 30,000 employees worldwide.
"The products we make go into almost everything you plug in, but some of the biggest parts of our business are related to memory for computers, cell phones, tablets, data centers and automotive electronics," he said, adding that Micron Technology is the only remaining memory company in the U.S.
While attending HC, Scott was involved in science, math and basketball.
"I had the privilege of studying under two tremendous physics professors who challenged and supported me, but were not at all afraid to remind me of the commitment required to really learn science and math," he said.
From former basketball coach Mike Trader '74, Scott said he was able to learn what can be accomplished from setting unreasonably high expectations, and in 1989, he was the Nebraska State College Basketball Player of the Year.
By Amanda Miller, a junior from Woodland Park, Colorado , majoring in journalism