For a young professional looking to launch a career in publishing, the Denver Publishing Institute (DPI) makes a perfect stepping stone. The four-week graduate program covers the complete book publishing process through lectures and workshops hosted by current industry professionals, and it boasts a network of more than 3,500 alumni who support young graduates in navigating career paths.
This year, a talented Hastings College graduate was among the institute's 95 accepted students.
"When I interned at the Oklahoma Gazette my senior year at Hastings College, my mentor, the assistant editor, recommended DPI to me. She had attended after she graduated college, and she thought I could benefit from it, too," said Hannah Meeske, a 2017 graduate who majored in publishing, English and Spanish.
Keeping up with professionals
DPI's workshops are taught by experienced publishing professions from all areas of the field. Sessions on career development connect current students with additional professionals, as well as the program's alumni network.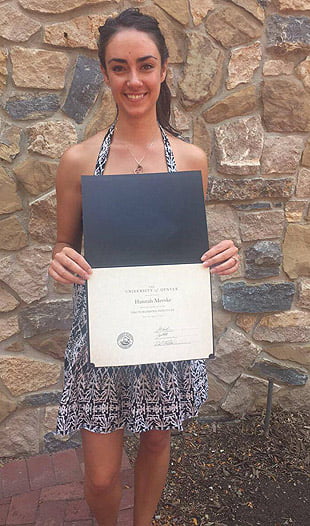 "It was great hearing stories, advice and insights from professionals who started as students just like us," Meeske said. "We even got proprietary information — stuff we can't share with anyone else! — from real publishing houses."
However, DPI wasn't Meeske's first exposure to a program that provides a direct look at the publishing industry. She said DPI directly reflected her experiences as an undergraduate at Hastings College.
"DPI and HC are very similar in curriculum and approach. I felt prepared, if not more so, than most students in attendance, thanks to my Hastings College experience," Meeske said.
Meeske built a strong background in publishing while at Hastings. As an undergraduate, she networked with professionals by attending national conferences for English and publishing majors, gained hands-on experience through her editorial internship with the Hastings College Press and was introduced to almost all aspects of the publishing industry.
"At Hastings College, I became familiar with the book production process, from start to finish," Meeske said. "This provided me with enough background to follow along with the industry professionals at DPI as they spoke about everything from editing, to design, to printing and binding."
Meeske received her graduate certificate from DPI in early August. Now, she plans to pursue employment opportunities in publishing. She said her goal is to work for a publication in Oklahoma City, while also participating in rodeo. Her vast knowledge of publishing creates the flexibility for her to create a career path that suits her interests.
"One of the benefits of attending Hastings College and the Denver Publishing Institute is how I feel prepared — and even excited — to work in any job in publishing," she said. "It helps me easily balance the search for a career while continuing my passion for rodeo."
By Mallory Gruben, a senior from Eckley, Colorado, majoring in journalism