Playing a key role in putting together a special edition of a newspaper for a professional media organization may seem like a daunting task, but for Hastings College sophomore Mallory Gruben, it's just a way to spend January Term (J-Term). The journalism major from Eckley, Colorado worked as an intern at the Hastings Tribune, but unlike many interns who end up doing odd jobs and assignments as instructed by their work advisor, Gruben had nearly complete autonomy.
"There are staff members at the Tribune who I can go to if I have questions, but as far as compiling the information and working on content, I'm pretty much on my own," said Gruben.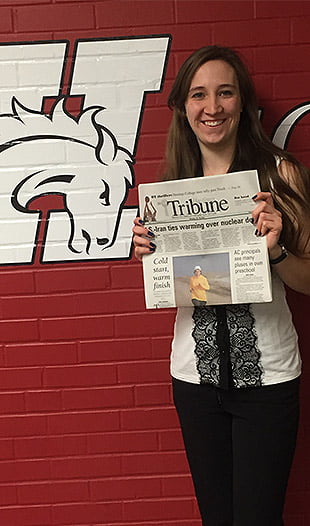 Specifically, Gruben helped with the Business Outlook edition of the Tribune, which includes a comprehensive directory of local businesses, special stories featuring businesses celebrating an anniversary and other content contributed by Tribune staff writers.
Gruben's primary tasks were ensuring the directory is current by updating a database using information from a questionnaire distributed by the Tribune, and reaching out to new businesses or those who did not respond to the mailer. She also interviewed business owners whose companies are celebrating an anniversary and wrote special features on their years of success.
"I reached out to any business that had been in Hastings for 25, 40, 50, 60, 70 or 75 years, and every five years after 75," Gruben said. "I then wrote a story that included a brief history, changes they've seen in their industry and future plans. It was really interesting to hear about the older businesses in town, many have quite a colorful past."
According to Publisher of the Tribune, Darran Fowler, the relationship between the Tribune and Hastings College is long standing.
"We've had an intern from the college during J-Term for several years, and we often have a college student work during the summer as well," said Fowler. "It's a great partnership that works out well for both of us."
Hands-on experience
Though this is her first foray into the world of professional journalism, Gruben is well prepared from her involvement in Hastings College Media (HC Media).
Starting out as a copy editor and contributor for the Collegian newspaper, Mallory took on increasingly more important roles throughout her first year on campus, eventually becoming a member of the public affairs content team as the chief for the science and technology bureau.  In the fall of 2015, she was appointed as the Managing Director of HC Media, overseeing all mediums. As a first-semester sophomore, Gruben was one of the youngest managing directors in recent memory.
According to Gruben, her time working with HC Media has helped her hone the skills she used at the Tribune.
"My first day at the Tribune I was a little nervous, and then snap, my instincts kicked in and I realized how prepared I really was," said Gruben. "The Tribune operates at a much grander scale than we do at HC Media, but the basic skills still transfer over."
Faculty who care
In addition to experience gained from her involvement with HC Media, Gruben also attributes much of her success to her journalism classes and professors.
"My first class in journalism was newswriting with Eric Tucker, he was extremely nice and encouraged me to look into working with the Collegian, of which he was the advisor at the time," Gruben said. "He's always very positive, and helped me thoroughly edit my news stories without being too critical. He wants to help students learn and improve without bringing them down, which is great encouragement to a first-year writer."
Hastings College showed up on Gruben's radar as a high school student primarily due to the strengths of the media and journalism department. She had known she wanted to go into journalism by that point, and HC Media looked like a great way to get experience while still a student.
"The best part of studying journalism at Hastings is being able to get hands-on experience so early on," said Gruben. "One of the biggest reasons that I can succeed in such an intense internship as a sophomore is the sheer amount of experience I was able to gain as freshman through HC Media. I can't think of another place that can offer such a great opportunity."
By Nick Musgrave, a junior from Parkersburg, West Virginia, majoring in history and political science