After turning in his last test for the exercise science program at Hastings College, Shae McMaster '15 said he remembers being so excited. He had put himself through college and could now call himself an exercise scientist. Yet while his learning time in college was over, he knew that's not how life works — because it's important to never stop learning and doing new things.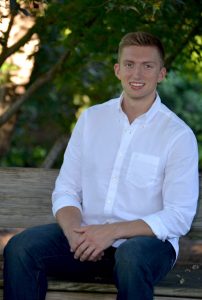 "I knew that my journey wasn't over, I knew that I needed to continue to learn how to serve others best," he said.
After graduation, McMaster worked at a strength and conditioning center in Gretna, Nebraska, but after a short time, he returned to Hastings to improve physical fitness and mental health in the community. His drive to help others has always been there, and he found his way of doing so through a business he launched, Enlightened Athlete. He said he wanted to continue to help others and found that this was the best route for him.
The business launched in his garage, and then he opened a facility in downtown Hastings in 2018.
"I've always been interested in human optimization, finding the best practices to elicit the best performance, whether it be physically, mentally or emotionally," he said.
Enlightened Athlete provides many services that primarily focus on general physical preparedness, which McMaster said is a way to ensure that people are prepared to do movements they will likely do within their daily routine.
It provides one-on-one training, small-group training, large-group classes, yoga, breath-work courses, sport performance classes for youth, Jiu-Jitsu classes and nutrition classes.
His business plans included expanding into online training — which was expedited significantly by the COVID-19 crisis. His goals include expanding his YouTube channel, social media platforms and even his team. He also plans to launch Jiu-Jitsu courses for kids.
McMaster made a special at-home workout video for all Hastings College alumni and friends. Find the video here: https://youtu.be/Qzl06H2_Vd0.
"Hastings College helped me get to where I am today because I was able to take so many diverse classes," he said, adding that he understands the world differently because of the varied courses he took at Hastings.
"I strive to help everyone because I work to understand where they come from," he said.
By Courtney Hanson, a junior from Brookings, South Dakota, majoring in communication studies and philosophy and religion