A dozen easels stand at attention in a large, gray classroom. They are perfectly new, waiting for the first brush stroke or pencil mark from an artist's hand. The cement floor below calls out for pencil shavings and paint splatters, while the walls long for the first sketch to be hung.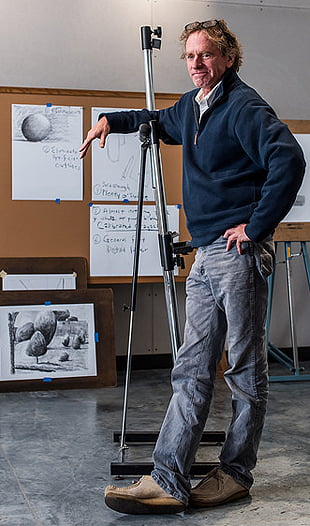 When the artists arrive, so will the color, the life, the art. But the soul—where will the soul come from in this pristine, state-of-the-art facility?
It's a question Turner McGehee asked himself as plans unfolded for the new Jackson Dinsdale Art Center at Hastings College.
McGehee, professor of art, former Art Department chair and the college's longest serving faculty member, knows how opposites work together. That's how he sensed that the old wooden art horses, the traditional wooden benches used in drawing classes at Hastings College since the 1950s, had a place in the new art center.
"They were so beat up and rickety. We decided we wanted to stop and clean them up," McGehee said, explaining the process of refurbishing the vintage seats. "I just think about the thousands and thousands of drawings that have been done on those in the past 50 years. That to me is instant installation of a little bit of soul."
A brand new center for making art is a different philosophy for McGehee, who came to Hastings College in 1983 and, like the other Art Department staff members, had become an expert in recycling and repurposing.
"Every studio in the old department, if you walk through, you couldn't find something that wasn't something else," he said. "Artists are kind of experts at doing that. Usually it's the oldest part of town where artists get studio space."
But in the new $8.5 million facility, everything is what it's supposed to be. The architects spent a year talking to staff and students, taking measurements and determining how each discipline used its space.
"The people who came to us to design this building are absolutely visionary designers," McGehee said. "The coolest thing about it is this was designed and built very sensitively around a good operating program. They know our program as well as we do. It's a new shell for the turtle to live in. I think that the designers, architects, engineers and builders have done something special. To me, it's a big symbol of what our program is."
It's a program that has been steadily growing, and McGehee expects it to take a leap with the addition of JDAC.
"We've been told by admissions we could double the number of art students," he said. "I think it's going to be great for recruiting for the entire college and strengthen parts of the college in general."
Developing Connections
Since McGehee joined the faculty three decades ago, he has seen the department develop national and international connections.
"I think every one of our faculty members has had exhibitions both nationally and internationally. We've had visiting artists and speakers from the Czech Republic, France, England, New York City, Australia, New Zealand. Our graduates have gotten more international," he said. "Hastings College is a point on the map for the international art world."
Nowhere is that more true than with the college's glass studio, under the direction of art professor and department chair Tom Kreager. Many glass students have gone on to teach at renowned glass studios, and their works are exhibited at galleries around the world.
Glass is Hot
Brian Corr '99 is one such glass artist. The Colorado native came to Hastings College to pursue communications and play baseball, but he fell in love with glassblowing during an elective class and quickly changed his major. After graduation, Corr began teaching glassblowing across the nation, including three years at the Corning Museum of Glass. In 2005, he moved to Australia to get his master's degree from the Australian National University in Canberra. Today, he is an artist at Canberra Glassworks and is getting his doctorate in glass at Australian National University. His minimalist pieces have been shown at exhibitions throughout the world.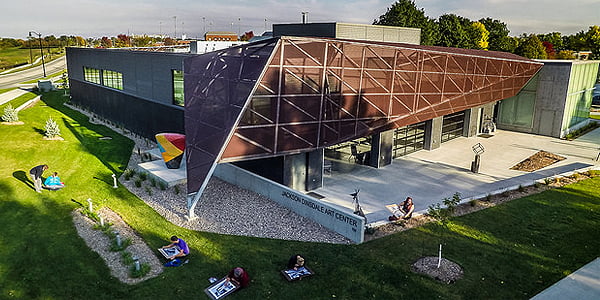 Corr toured JDAC this fall and was blown away by the glassblowing facility. It is especially impressive, he said, considering many colleges and universities are ending their glass programs.
"I can't emphasize how amazing that studio is," Corr said. "It's hands down the best facility I've seen at any university."
It also dwarfs the old glassblowing garage where Corr got his start. Hastings College was one of the first colleges to have a glass studio, and 90 percent of it was homemade.
"We were pioneers in that and we're absolutely leaders today," McGehee said. "That part of the program has expanded exponentially."
Bronze sculptor George Lundeen '71 has watched the Art Department flourish since he joined the student body 50 years ago. At that time, the department comprised three rooms in Fuhr Hall. When the library moved into the new Perkins Library, it freed up space for a dedicated Art Center in the old Carnegie Library, which was built in 1908 on the south side of campus. (Kiewit Physical Education Building was built and connected to the center in 1969.)
The college hired Lundeen and a few other art students to move equipment from Fuhr Hall to the Art Center.
Lundeen attended the dedication of JDAC Aug. 20, but the day before he moseyed over to the old art building to have a look at his former classrooms.
"I looked for something I could move over (to JDAC) so I could say I helped move this one, too," he joked.
Even without a fantastic art facility like the Jackson Dinsdale Art Center, the Art Department always had something special in its faculty, Lundeen said.
"You cannot find those people anywhere in the world except Hastings College," he said, adding that he still counts many HC faculty members as close friends. "I guess I found the end of the road at Hastings College."
That road set Lundeen on a course to study as a Fulbright-Hayes Scholar at the Academia de Belle Arte in Florence, Italy. His bronze sculptures have been exhibited nationally and internationally, and he has created sculptures for Nike, Coors Field in Denver and Dartmouth College. Two of his bronzes—Robert Frost and Joy of Music—are on the Hastings College campus.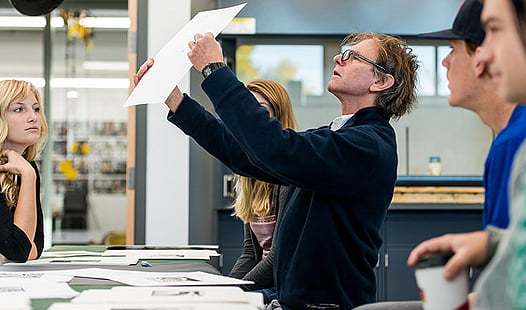 McGehee, he said, has been a "terrific" influence on the Art Department and has a gift for helping students find a passion.
"A place like Hastings College can give you the advantage to take the time to see, 'Do I want to be a poet? Do I want to be a fiction writer?'" Lundeen said.
That happens to be one of McGehee's passions: exploring various disciplines and incorporating them into a diversified education.
"I've always believed that the best artists are going to be the ones with the biggest ideas and greatest breadth of knowledge," he said. "If you go to (HC) senior thesis lectures, you'll hear a lot of stuff from literature, sociology—you'll find those disciplines in the art that they're doing. We try to train students to incorporate all their knowledge into an art that's meaningful."
Conceptually Thinking
Sarah (Fettin) Kuester '06 said her art education at Hastings College taught her how to think conceptually—to go beyond the art processes.
"I was challenged to connect my work to my ideas and to visually express my thoughts, opinions and beliefs," said Kuester, who double majored in studio art and K-12 art education. "I was pushed not only to create work, but to be able to talk about it, defend it and write about it."
While teaching art for nine years at the elementary and high school levels for Gretna (Nebraska) Public Schools, Kuester continued to create and show her own artwork, was an artist mentor for the Kent Bellows Studio, and earned a master's degree in curriculum and instruction from Doane College. This year Kuester and husband, Josh, started Two Keys Creative Studios, where Kuester gives private and group art classes to children, teens and adults.
Kuester said McGehee impacted her greatly, both as a teacher and an artist.
"I first had him in drawing class, and when you have a three-hour long studio course, you end up getting to know everyone pretty well," Kuester said. "He would give us drawing challenges that at times drove us crazy, because they were actually challenging. He wasn't there to give us an easy way out; he wanted to push us to be better. Those exercises forced me to grow and learn about what I was doing as an artist in a deeper way."
McGehee insists that Hastings College art students are well rounded, intelligent — and hirable.
"Parents, relax. Your kid says she wants to study art. Send them to Hastings College; they get jobs," McGehee said with a laugh.
Corr echoes that sentiment.
"You can actually build a successful career around it," he said of glassblowing, noting that he supports a family of four.
Gary Staab '89 was able to combine the disciplines of art and biology to become a paleoartist—and a highly sought-after one at that. Staab of Kansas City, Missouri, creates natural history and prehistoric life models for museums, publishing and film. Among the 23 sculptures he is currently working on are two life-size bronze rhinos and a huge tortoise for the University of Nebraska-Lincoln.
Staab was an undecided freshman interested in both music and biology when he took McGehee's drawing class.
"We went to the Hastings Museum to draw animals in the exhibits," he remembered. "I had this epiphany that people had to build exhibits for a living, and wouldn't that be a cool line of work?"
McGehee helped Staab create a directed study program, and soon he was doing internships with the Smithsonian Institute and the British Museum in London. Staab said he was always impressed that Hastings College allowed him to write his own major as an undergrad. He chalks that up to both the Art and Biology Departments — but most of all to McGehee.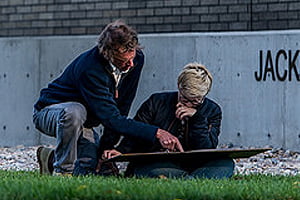 "He's a soft spoken guy and an amazingly intelligent guy who has the ability to help people see their vision," Staab said. "He has such a depth of knowledge about the history and how things are relatable to each other. That's the biggest takeaway I have from my experience with him—being able to make connections between things."
It's just what McGehee does for students, for art and in JDAC's drawing classroom. New room, new easels, old art horses.
"Those horses are kind of symbolic to me of connection to the old," he said.
And McGehee need not worry. He brings an important element to the new art center every time he walks through the door: a little bit of soul.
Story by Amy (McGraw) Palser '99