While working from 11:00 a.m. to 1:30 a.m. on Fridays, Hastings College sophomore Jo McCauley finds time to enjoy herself by listening to local Nebraska bands. The perk is a part of her internship with HEAR Grand Island.
The 10-week summer concert series delivers three weekly music acts of different genres that are free to the public.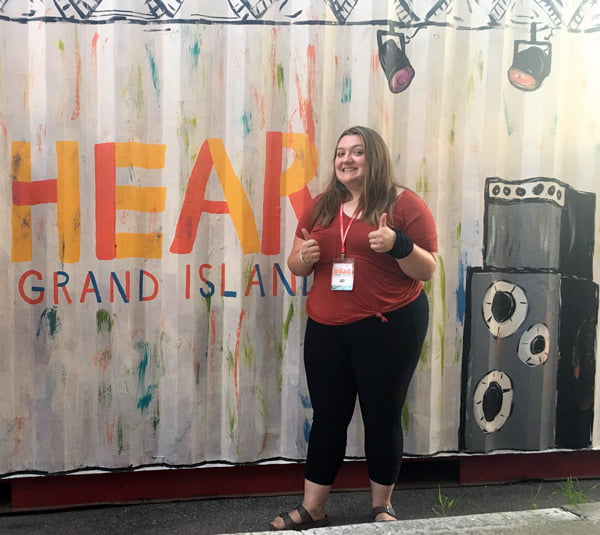 The communication studies and accounting double major from Trenton, Nebraska, has created a vast social network in her short time with HEAR Grand Island. She's met the chairman of downtown Grand Island and looks forward to the opportunities such relationships can lead her to in the future.
"Being on a first-name basis with someone on the board of downtown Grand Island can help me get connected with new things in the future," she said. "The networking experiences have been my favorite part by far."
Her role as a social intern includes setting up the concert, talking to the band and writing a feature article that is posted on social media, selling merchandise and enjoying the concert before cleaning up for the night.
McCauley said her interpersonal communication class with Dr. Kittie Grace, professor of communication studies, helped her prepare for the professional interview setting, what questions to ask and how to network with new people.
HEAR Grand Island has opened her eyes to the different careers she could pursue. As a double major in accounting and communications studies, she sees both majors at play at times.
"I get to use things I've learned from my communication classes and also work alongside many businesses, which is what I'll do in accounting," she said.
One of her favorite things about Hastings College is how available all faculty and staff have been for her. One day she showed up to the dean of student engagement's office announced, and they have had many discussions since. She said Dr. Lisa Smith was a big help in her adjustment to college life.
"Everyone on campus makes themselves available to help you, which helped me feel welcome," she said.
By Courtney Hanson, a junior from Brookings, South Dakota, majoring in communication studies and philosophy and religion.