Allison Matousek, a 2018 sports and recreational management graduate, is getting out of her comfort zone and letting things happen as they come.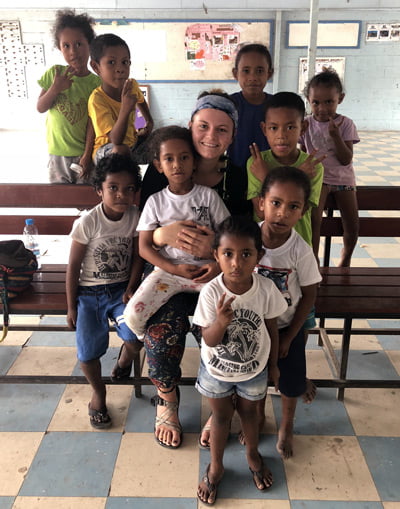 Matousek has always loved kids. In high school, she babysat for a family who had gone on mission trips with Youth With A Mission (YWAM), a non-profit Christian missionary organization. They introduced her to the program and encouraged her to get in contact with the program's coordinators, putting her on the path to Australia after college.
She left for Australia in July 2018 for a six-month trip. For the first three months, she she learned more about YWAM's mission and Christian beliefs. Then she worked with children in Papua, New Guinea, and Townsville and Airlie Beach, Australia before returning home.
While in Australia, she learned about different cultural beliefs and traditions through stories and food. All the women on the trip lived in close proximity of each other, sharing one room with 25 bunk beds.
"To see all the differences in one room, to learn from each other and live together was the most influential experience for me," she said.
Matousek's mission group consisted of 50 people from 19 countries. During her mission, she made friends from around the world, including Spain and the Netherlands. She said she loved experiencing different cultures and seeing how God was reflected in different ways for people in other parts of the world.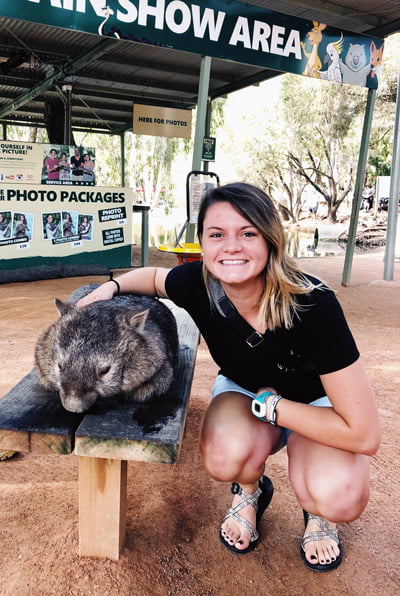 Matousek wanted to share a traditional Thanksgiving dinner with her group. The big group had separated into smaller groups of 10 — but only three people in her group were from the United States, so seven had never experienced a Thanksgiving meal.
"I didn't feel like I had much culture to share, but cooking a Thanksgiving meal, enjoying food and talking about what we are all grateful with people who hadn't experienced it before was special," she said.
Matousek is uncertain where her love for learning about other cultures came from but has a feeling it started with a J-Term class that taught how to play Mahjong, a Chinese tile game.
"Diving into a different culture through a game, and learning how to do it in full, made me want to keep learning about cultures," she said. She still loves the game today.
Matousek said skills gained outside of the classroom were important, too. She played softball, was vice president of the student alumni association, president of Alpha Omega, on the leadership team for FCA and served as a co-chair for special events. Balancing her commitments to these organizations taught her time management, a skill she uses every day.
"Hastings gave me the heart and passion to not live inside a bubble and to get outside of my comfort zone and explore what the world has to offer," she said.
By Courtney Hanson, a sophomore from Brookings, South Dakota, majoring in communications studies and philosophy.